Aja is the stage name of Jay Rivera, a drag performer from Brooklyn, New York. She competed on the ninth season of RuPaul's Drag Race and RuPaul's Drag Race All Stars Season 3.
Drag Name Origin
Rivera took inspiration for their drag name from the 1982 Bollywood movie "Disco Dancer", which features a song in its corresponding soundtrack titled 'Jimmy Jimmy Jimmy Aaja'. Rivera resonated with the lyric "Aja", and decided that Aja would be his drag name.
RuPaul's Drag Race
Aja

| | | |
| --- | --- | --- |
| Season Competed: | Season 9 | All Stars 3 |
| Ranking: | 9th | N/A |
| Mini-Challenges Won: | 0 | N/A |
| Times as Team Captain: | 1 (ep. 4) | N/A |
| Main Challenges Won: | 0 | N/A |
| Times in Bottom Two: | 2 (ep. 3, ep. 7) | N/A |
| Episode Eliminated: | Episode 7 | N/A |
Season 9
Episode one: "Oh. My. Gaga!" Aja did well in the first challenge, landing her a "safe" spot. For the challenge, the queens had to showcase a hometown look and a Lady Gaga inspired look. For the hometown look, she did the Statue of Liberty, representing New York. The Lady Gaga look she chose was Gaga's Commes des Garcons dress, representing that 'Beauty has No Shape'. The judges gave both looks "okays" and Lady Gaga said (about Aja), "This girl- she's gonna keep surprising you".
Episode three: "Draggily Ever After"- For the main challenge, the girls were asked to create a fairytale princess, and their sidekick, for the runway. Aja started off confident, because of her talents in sewing. Her princess's character was named "Disastah", and was based on a volcano eruption. Her sidekick was a storm cloud. She was critiqued by Michelle Visage for not knowing what her look was, and her makeup being rough and dark for the last few episodes. Aja ended up in the bottom 2, lip-syncing for her life. In the end, she sent Kimora Blac, keeping her place in the race. 
During work time, her makeup was clocked by Alexis Michelle. As well, she was really aggressive and bitter towards Farrah Moan and Valentina in Untucked, lashing out due to stress at being in the bottom two. 
Episode four: "Morning Bitches!" - Aja was chosen as the team captain as she survived the lip sync. She was apart of the winning group but didn't win the challenge.
Episode seven: "9021-Ho" - Aja was originally cast in "9021-Ho" as Grandrea, but became stressed and switched with Shea Couleé. Aja ended up with Bethany but was criticized for her line delivery and overall performance. Aja ended up in the bottom two against Nina Bo'nina Brown despite a praised runway look, and she ended up being eliminated in ninth place.
All Stars 3 and Growth
Aja was the only rumored season 9 queen to be on All-Stars Season 3 and had canceled her tour for most likely this reason. After showing massive growth on and after the ninth season of RuPaul's Drag Race, fans predict that she will have a favorable edit and slay the runway. 
Aja has now been confirmed as the first competitor on All-Stars Season 3.
Trivia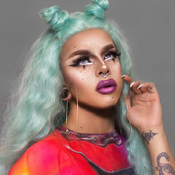 Aja is the youngest queen to compete on Season 9, at the age of 22 during filming. She's also the youngest queen to compete on an All Stars season at the age of 23 during filming, beating out Tatianna and Adore Delano.
Aja was the last queen to enter the werkroom on Season 9.
Aja was the first queen revealed for All Stars 3, being interviewed by Michelle Visage during a Facebook live-stream 3 hours before the contestants' reveal episode.
Aja was supposed to wear the rainbow kimono that Lady Gaga wore, and instead later changed it to the "Beauty Has No Shape" dress by Comme des Garçons. She later said that she had saved the kimono for the Rainbow Look on the ball episode. [1]
Aja admitted of practicing Santería in the Drag Queen Carpool with RuPaul before Season 9 aired.

In episode 7, Aja implies that she does some form of divination readings, possibly in the brujeria style.

Aja had to post an Instagram photo and explain about her skin due to criticisms about her makeup looking rough.
Aja left the first eliminated queen Jaymes Mansfield her phone number along with a note that read, "It was fun meeting you! Stay amazing, learn to believe in yourself, and if you ever need a friend I'm here." After her elimination she also left some of her clothes to Nina Bo'Nina Brown.
Aja is the mother of the drag family "The Haus of Aja". Her drag daughters are Dahlia Sin, Kandy Muse, and Momo Shade.
Aja identifies as genderfluid and goes by they, them and their pronouns out of drag. She discussed this while being interviewed by Peppermint on her Rupaul's Drag Race Recap Show.
Aja, Alexis Michelle, Peppermint, and Sasha Velour recorded a song together titled "C.L.A.T."[2]

They were also interviewed for getoutmag and had to wear a Broadway themed look, Aja doing Grease.

Aja dropped out of high school to do drag, although she had perfect grades. [3]
Aja won Drag Queen of the Year at the 4th Annual Brooklyn Nightlife Awards in 2016. [4]
Aja is of Moroccan and French descent, though she is often assumed to be Latina as she was adopted into a Puerto Rican family.
Although practically non-existent, Aja's lisp has become a running joke amongst fans.
Quotes
"Sis."
"Ayo, sis."
"Girl, she is carrying."
Season 9
"Your edges are officially snatched!" (Entrance quote)
"I feel so at home with so many talented girls."
"The true gagarini. That is what is about to go down."
"Nina Bo'nina fell on the sofina!"
"I'm an Illuminati princess, they tried to silence me and I'm like, no bitch I'm still gonna talk."
"You're perfect, you're beautiful, you look like Linda Evangelista, you're a model! Everything about you is perfect! Did you stone those tights? Oh, you're smiling! They eat her up EVERY SINGLE TIME she's on that damned stage! *aggressive gibberish* She could walk out there in a fucking diaper and they'd be like, "Valentina! Your smile is beautiful!"- (Aja's Untucked rant directed at Valentina.)
"Girl I feel like a soft serve ice cream cone right now!"
"Did my nose get thinner?"
"Gooped and Gagged."
"Werk fan favourite!"
All Stars 3
"Maybe I'll come, maybe I'll win, maybe I'll slay but I won't know unless I play - bitch I'm a poet ya'll see that rhymed." (Meet The Queens)
"I feel like I was like a little turtle inside the little shell and now I'm just like a full blown like....what's not a turtle?" (Meet The Queens)
"Ayo sis! I have some unfinished business" (Entrance quote)
References
Ad blocker interference detected!
Wikia is a free-to-use site that makes money from advertising. We have a modified experience for viewers using ad blockers

Wikia is not accessible if you've made further modifications. Remove the custom ad blocker rule(s) and the page will load as expected.