Alaska Thunderfuck 5000, also known as just Alaska on the show, is the stage name of Justin Andrew Honard, an American drag performer who was a runner-up on Season 5 of RuPaul's Drag Race and won RuPaul's All Stars Drag Race (Season 2).
Biography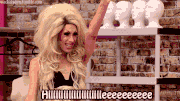 Justin studied Theater at the University of Pittsburgh. After graduation he moved to LA to get more acting jobs, and there she started doing drag professionally. He met Sharon Needles during a holiday break. Sharon went back to Pittsburgh, and shortly after they met he moved back too.
Alaska was in a relationship with Sharon Needles for four years. During season four, Sharon explained that Alaska had auditioned for every single season of Drag Race, but that Sharon had made it through on her first try. Alaska later explained that while she was upset at first about Sharon's success, she decided it was better to be her biggest fan. They were announced as the drag race "royal couple" and "super couple" until Alaska and Sharon announced their separation on December 19, 2013, explaining that it was the best thing to do, and they are currently still friends. More information on their separation can be found here and here with Sharon saying, quote: "Due to the severe change not only in mine but Alaska's life, the survival of our partnership relies on simply changing the word 'boy' in boyfriend to 'best.' And because of my severe vanity, I'd like to keep my social media as a place dedicated to my art, and not a place to talk about my personal life. RuPaul once said that people come into our lives for different reasons for different intervals of time. I will treasure the four years we had together."
In 2014, she released her debut single, "Your Makeup Is Terrible". She released her debut album, entitled "Anus", in 2015.
In 2016, she released "Poundcake", her second album, which was supported by the lead single "Puppet".
In 2017, she appears on the video clip of the song "Power" by Little Mix with Willam Belli and Courtney Act. Later that year, the three realeased their first ever album credited as the AAA Girls, titled "Access All Areas".
Drag Name Origin
She was high with friends in college, and her friends were talking about the different strains that they had smoked in Amsterdam. Someone brought up Alaskan Thunderfuck and she decided that was going to be her drag name.
Trivia
Despite placing low multiple times during Season 5, she never had to lip sync for her life. This makes her one of seven queens to never lip sync while on the show (although she had to 'lip sync for her legacy' several times on All Stars 2).
Alaska had auditioned for every single season of Drag Race before making it onto Season 5.
Alaska and Season 4 winner Sharon Needles were dating before both Sharon and Alaska were on Drag Race, and their relationship continued throughout their respective seasons. They split up in 2013, but still remain good friends.
After appearing on Season 5 of Drag Race, he became addicted to drugs, but was sober by the time of filming All Stars 2.
She and fellow All Stars 2 contestant Katya are one of two pairs of queens to lip sync against each other twice, the other pair being Darienne Lake and BenDeLaCreme on Season 6.
Alaska is Kim Chi's drag daughter as of May 11th 2017.
She is a part of the American Apparel Ad Girls, alongside Courtney Act and Willam.
While on All Stars 2 she was criticized (along with Detox) for sending home stronger queens while keeping Roxxxy Andrews, despite Roxxxy placing in the bottom five times during the season.
Alaska's drag mother is Jer Ber Jones, who mentored her when she moved to Los Angeles.
Alaska is the second runner-up who never placed in the bottom two. The first was Nina Flowers and the third is Kim Chi.
Alaska has won 6 challenge wins: 2 in Season 5 and 4 in All Stars 2)
Following Team Shad, Alaska is the 3rd person to win 3 challenges in a row.
Memorable Quotes
Season 5
"HIEEEEE!" (Season 5 entrance)
"Are you red... e? for me?"
"I live for Chaz Bono... Chaz Bono came out of Cher's vagina."
"It is so good I just wanna spray it all over mah body right now."
"Michelle Visage... You can take the girl out of New Jersey, but you can't keep the girl from giving blow jobs to homeless men along the New Jersey
"......I don't even know what a Rolodex is."
"Down with communism."
"Your makeup is TERRIBLE!"
"I'd like everyone to meet: Lil' Poundcake. Her catchphrase is "You're not my real dad and you never will be." Lil' Poundcake enjoys ridin' dirty and bein' a straight up motherf****n' d**** pig."
"Alyssa... she's dressed like a businesswoman of the eighties who doesn't want romance without finance."
"How do I feel about queens who've had plastic surgery? Jealous. If I had my way, my upper lip would look like THIS..."
"Detox, you're so seductive... Unfortunately it's illegal to do it with you because most of your parts are under eighteen years of age."
"The season of the fish smells like trout."
All Stars : Season 2
"Greetings, my message for the human race is really quite simple... HIEEEEE!" (All Stars 2 entrance)
"Let's get all star-ted!"
"Anus-thing is possible."
"My name is yours... What's Alaska?"
"I'll send you 10,000 dollars via PayPal if you let me stay in this competition"
Discography
| Album Title | Release Date | Album Cover |
| --- | --- | --- |
| Poundcake | October 14, 2016 | |
| Anus | June 23, 2015 | |
Poundcake
The T
Let's Do Drag(ft. Lady Red Couture)
Slaytina
Stun(ft. Gia Gunn)
Puppet
O, Brasil...
Come to Brazil
Diamond in the Rough
High
Chicken(ft. Miss Fame)
Race Chaser
I Invented That(ft. Jackie Beat)
It Is What It Is(ft. Nick Laughlin & Jeremy Mark Mikush)
Anus
Hieeee
Anus
Pussy
Beard
This Is My Hair
Nails- Piano Introduction(ft. Jeremy Mark Mikush)
Nails
Gimme All Your Money(ft. Laganja Estranja)
Everything Tonight
Best Night Ever
The Shade Of It All(ft. Courtney Act & Willam)
Legendary
Killer
Your Makeup Is Terrible
Singles
Follow Alaska
Ad blocker interference detected!
Wikia is a free-to-use site that makes money from advertising. We have a modified experience for viewers using ad blockers

Wikia is not accessible if you've made further modifications. Remove the custom ad blocker rule(s) and the page will load as expected.