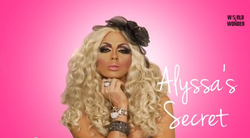 Alyssa's Secret is a spinoff web series starring Season 5 and All-Stars 2 queen Alyssa Edwards.
The series was confirmed by multiple sources in April 2013, including Michelle Visage and Ru herself.[1] The title was revealed in late May 2013. The series descripiton is:
Alyssa's Secret is a digital series starring the shining star of RuPaul's Drag Race, Alyssa Edwards. Each week she spills the T on an array of topics.
The first episode was added to World of Wonder's YouTube channel on June 3, 2013, with a new episode added every Monday. The episodes are each around one minute in duration.
Alyssa also has collaborated with a few different queens on the series, including Bianca Del Rio, Alaska, Laganja Estranja, Sharon Needles, Shangela, Vivienne Pinay and Latrice Royale
The series playlist can be found here
References
Ad blocker interference detected!
Wikia is a free-to-use site that makes money from advertising. We have a modified experience for viewers using ad blockers

Wikia is not accessible if you've made further modifications. Remove the custom ad blocker rule(s) and the page will load as expected.