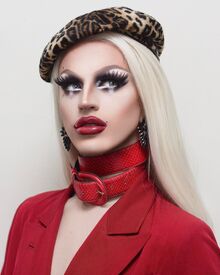 Aquaria is a contestant on the tenth season of RuPaul's Drag Race.
Drag Name Origin
Aquaria got her drag name from her zodiac sign, Aquarius.
Quotes
"Bonjour! Sorry to keep you waiting" (Season 10 Entrance)
"I don't define drag, drag is defined by me."
Trivia
Aquaria is the drag daughter of Season 4 winner Sharon Needles.
Aquaria is the youngest queen on season 10, at 21 years old at the time of competing.
Aquaria has been doing drag since 2014.
Aquaria has a large Instagram following. She had over 210,000 followers on Instagram before her casting was announced.
Aquaria was born and raised in West Chester, a suburb of Philadelphia, PA.
Aquaria studied at the Fashion Institute of Technology in New York City, majoring in Womenswear and living in the dorms.
Aquaria is often confused with Miz Cracker in the New York drag scene.