Who is Bebe Zahara Benet?
BeBe Zahara Benet is the stage name of Nea Marshall Kudi Ngwa, a drag performer and former male model. She is best known for being the first winner of RuPaul's Drag Race, appearing on Season 1.
BeBe was known for her big booty, cute smile, polished runway presentations, and her stunning leotards which led her to snatch the crown of America's Next Drag Superstar.
Biography
BeBe was born and raised in the Central African country of Cameroon. Four years prior to Drag Race, BeBe moved to Paris, France. Later she moved to Minneapolis, Minnesota to be closer to family. After winning Drag Race, BeBe eventually moved to New York City.
Kudi's first experience with drag was at a Paris fashion show, where he was asked to put on a costume to walk the runway as a female at the last second when a model didn't show up. Kudi describes his drag persona BeBe as "a strong and cunty character illusion created for entertaintment and the artistic expression of the feminine psyche".
Bebe got her start in drag not long after she moved to Minneapolis, inspired by the drag scene there. She later went in for an interview and was offered a part in the performance "Girls Just Wanna Have Fun" by Cyndi Lauper. BeBe then took the part and stole the job as being a full drag queen.
Drag Name Origin
She always loved the name BeBe, so BeBe Benet just came in her mind. The name is very French, fashion forward, and dynamic. She then wants something exotic which would tie her with her roots and flowed well. After going through names, she decided to go with Zahara.
RuPaul's Drag Race Stats
BeBe Zahara Benet

| Season Competed: | Season 1 | All Stars 3 |
| --- | --- | --- |
| Ranking: | 1st Place (Winner) | 3rd/4th |
| Mini-Challenges Won: | 0 | 0 |
| Times as Team Captain: | 0 | 0 |
| Main Challenges Won: | 2 (ep. 3, 6) | 2 (ep. 5, ep. 6) |
| Times in Bottom Two: | 1 (ep. 5) | 1 (ep. 7) |
| Episode Eliminated: | N/A | ep. 8 |
BeBe is the very first season winner in series history.
BeBe won two main challenges in Season 1.
BeBe is the only contestant to win the $20,000 cash prize, the lowest cash prize in series history.
As the winner of Season 1, BeBe was given a featured cameo in the music video for RuPaul's song "Cover Girl (Put The Bass In Your Walk)".
Discography
EPs
Kisses & Feathers (November 17, 2017)
Singles
I'm the Sh*t (January 1, 2009)
Cameroon (August 23, 2010)
Dirty Drums (April 17, 2012)
Face (March 3, 2014)
Get Fierce (Lose Yourself) [April 21, 2017]
Fun Tonite (July 21, 2017)
Starting A Fire (November 3, 2017)
Trivia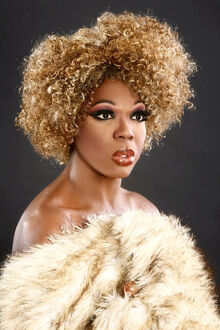 Before Drag Race, Nea was modeling as a woman at the same time he was in school. It originally was not planned that way. Nea was supposed to be a male model, but the female models did not show up in the studio, so "BeBe" took over and posed as a woman. However, Nea did not perform as a woman, nor make money off of it.
After winning RuPaul's Drag Race season 1, BeBe can choose just about any place she wants to go, whether it's for a show or for hustling, as opposed to working 7 nights a week.
After Drag Race, BeBe moved from Minneapolis to New York City.
One of BeBe's most memorable performances was performing "Circle of Life" from the classic Disney movie, The Lion King.
After Season 3 of RuPaul's Drag Race ended, BeBe was cast as a new professor for RuPaul's Drag U Season 2. BeBe was the only new Season 1 queen to enter the show, but was reunited with her fellow friends and contestants Shannel and Ongina.
BeBe was signed a contract with Riverplate Global Local Flushing Records to record her single "I'm the Shit". Her music video is now released on YouTube and is available on Amazon.
BeBe was revealed to be the mysterious 10th queen on the premiere episode of All Stars Season 3, confirming rumors. She is the only queen to compete in an All Stars season who won her original season.
BeBe is the first winner to compete on an All Stars season.
BeBe is tied with Bob The Drag Queen for having the worst Dusted or Busted score out of any winner, both scoring 3 in their respective seasons.
Quotes
Season 1
"I bring a lot of international influence, and right now I really feel like I'm ahead of the game."
"I want to win this because, there is pride and dignity in what we do. Dressing up for a living, does not make us less of a man."
"Right now I'm overwhelmed, because I can't believe it finally happened. Like a dream that you have been dreaming all the time, has finally come."
"Face, face, face, beauty face!"
All Stars 3
"Mother, another day; another slay. Who's first?" (All Stars 3 entrance)
"Hahaha, bitch you got jokes!"
"Ms. Thorgy drew the --- a very like, you know, a picture of what the...(laughs)...She drew a picture."
"That's the gag of the season."
(as Grace Jones) "So Rupaul, when are we going to fuck?"
"Ooooh the drama in the pageant!"
"Bitch I'm a Performah!"
External Links