BenDeLaCreme, often referred to as DeLa or BenDeLaChrist, is the stage name of Benjamin Putnam, an American drag performer from Seattle, Washington. Putnam is well known for being a contestant on Season 6 of RuPaul's Drag Race. She finished in 5th place and was voted Miss Congeniality by fans. DeLa competed on RuPaul's Drag Race All Stars (Season 3) and won every challenge except 1 but quit in episode 6 getting 6th place.
DeLa is statistically the best performing queen in the show's herstory as of AS3.
BenDeLaCreme

| Statistics | Season 6 | All Stars 3 |
| --- | --- | --- |
| Placement | 5th Place | 6th Place |
| Main Challenges Won | 2 (ep. 1, 5) | 5 (ep. 1, 2, 3, 4, 6) |
| Mini Challenges Won | 3 (ep. 4, 9, 11) | 1 (ep. 1) |
| Times in Bottom | 2 (ep. 7, 11) | 0 |
| Episode Eliminated | Episode 11 | Episode 6 |
RuPaul's Drag Race
DeLa is based in Seattle, Washington, where she often works with Season 5 winner Jinkx Monsoon and Season 8 alumn Robbie Turner. DeLa is the first on Season 6 to win two main challenges. She won the main challenge on the very first episode, Episode 1 "RuPaul's Big Opening" Part 1, as well as episode 5, "Snatch Game". DeLa is also the winner of the Snatch Game for her season, after making an odd choice to portray actress Maggie Smith, a choice she was at first nervous about, but ultimately won her the challenge.
On Episode 7, "Glamazon by Colorevolution" Michelle Visage accused DeLa of hiding behind a costume, and that she didn't not know who the real "DeLa" was. DeLa felt hurt by this comment, for she felt that the character of BenDeLaCreme was the embodiment of everything she was.
Dela received continuously high marks until Episode 7, "Glamazon by Colorevolution" in which she and Darienne Lake were paired in a group together for the main challenge, where they had to film and star in a commercial for RuPaul's cosmetics line. Their commercial was considered the worst and they were put in the bottom two together, lip syncing for their lives. RuPaul saved both queens in a non-elimination, stating that he wanted to see more from BenDeLaCreme.
In Episode 8, "Comedy Queens", DeLa did poorly in her stand-up routine. Afterwards, the judges praised her material, yet said the poor response was due to her misjudged comedic timing. One audience member even heckled during her performance by yelling ,"Tell us a joke!?" She faltered again and landed in the bottom three, narrowly missing the bottom two for the second consecutive week.
DeLa continued to do well and receive positive critiques until Episode 11, "Glitter Ball" where her looks were criticized for not fitting the challenge specifications, and for looking too similar to her past looks. After a second lip-sync against Darienne Lake, she was eliminated from the competition, giving her a 5th place ranking. This sparked a large amount of controversy amongst viewers.
DeLa would go on to win the title of "Miss Congeniality" during the Season 6 Reunion special.
On the show, Ben revealed that he was bullied as a child for being overweight, 'weird' and gay. His mother, who had been the positive voice to counteract this, sadly died of cancer when he was age 13. He was also open about his struggles with depression, revealing that his 'terminally delightful' drag persona helped him overcome this.
BenDeLaCreme competed on the third season of RuPaul's Drag Race All Stars. She had previously commented that she wasn't interested in competing on All Stars, but changed her mind for the third season.
She did especially well among her competitors, amassing a total of 5 main challenge wins and 3 Lip Sync For Your Legacy wins.
However, on Episode 6 "Handmaids to Kitty Girls" her amazing performance was cut short. After placing in the top and defeating Bebe Zahara Benet in a lip sync battle, Rupaul asked her who he wanted to eliminate, and who she wanted to bring back into the competition. She brought back Morgan McMichaels, and, in a surprise turn of events, eliminated herself. She said this was the "easiest decision" she had made during the show, claiming that she had already proven what she needed to prove, having won five out of six main challenges, more than any other queen in the history of the show, and that she didn't care as much for the title as the rest of the other queens.
Elimination & Controversy
After being the first contestant on Season 6 to win the very first main challenge, winning the popular "Snatch Game" challenge, being the first of the season to win two main challenges, and receiving mostly positive critiques from the judges, BenDeLaCreme was considered to be a front runner by many fans and a candidate to become a Top 3 finalist. After DeLa's elimination on Episode 11, following a second lip-sync against Darienne Lake, a firestorm was sparked on social media outlets by viewers. Outraged and confused, many fans accused the show of putting ratings and drama ahead of the competition, believing that Darienne Lake should have been eliminated over DeLa. Some viewers went as far as boycotting the show and creating an online petition asking RuPaul to bring BenDeLaCreme back into the competition.
When the subject of her controversial elimination was brought up during the Season 6 Reunion, DeLa stated that she was shocked by the amount of love and support she received from viewers, but did not commend the hate, negativity, and bullying Darienne Lake had received.
DeLa's elimination is considered to be, by many fans of the show, the worst decision in Drag Race "herstory." Parallels were later drawn between DeLa's elimination and the elimination of both Katya and Trixie Mattel in Season 7, as well as the elimination of Valentina in Season 9.
Official Media
Miss Congeniality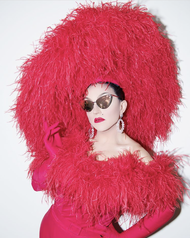 After the airing of BenDeLaCreme's elimination, online polls were opened allowing viewers to vote for the Miss Congeniality winner of Season 6, before the top 3 finalists were announced. This lead to speculation that producers of the show may have anticipated outrage from fans after DeLa's elimination, allowing fans to vote in favor of DeLa as a consolation for not reaching the top three as a finalist. Due to this, DeLa was expected to become the Miss Congeniality winner of Season 6, and was consequentially awarded the title during Episode 14, "Reunited", the reunion special.
Quotes
Season 6
"Hi everybody! It's me, BenDeLaCreme!" (Entrance quote)
"Dela for short, De for shorter, Ms Creme if you're nasty."
"Can you imagine such a thing? ha!" (as Maggie Smith in the Snatch Game)
"Excuse me, we originated the language!" (to Nicki Minaj as Maggie Smith in the Snatch Game)
"...Bianca's hard to imitate because I don't listen to her."
"Don't fear the drag queen, fear the devil inside the drag queen."
"ADORE'S AN IDIOT, DELA HAS A STUPID VOICE, SANTINO'S ASSHOLE IS LOOSE!" (as Bianca Del Rio puppet)
"Barf."
"I'M NOT GOING HOME" (To Darienne Lake in Untucked, Episode 8)
All Stars 3
"So sweet! YOU'LL NEVER KNOW WHAT HIT YOU." (Promo)
"Hi everyone! It's me, BenDeLaCreme! Again" (Entrance quote)
"Circle gets the square!" (as Paul Lynde in the Snatch Game)
"Sweetheart, none of these queens are gonna do you!" (as Paul Lynde in the Snatch Game)
"Thanks for letting me be my kind of winner."
"I'm going home."
Trivia
BenDeLaCreme and Darienne Lake, along with Shangela and herself, are two of three pairs of queens to lip sync against each other twice, with the other pair being Alaska and Katya on All Stars 2.
BenDeLaCreme was offered a spot on All Stars 2, but declined due to her dislike of how the producers were willing to manipulate the girls and their friendships with each other for drama.
BenDeLaCreme used to work at a cabaret in Seattle with a different drag name. She did so many things in that cabaret that she changed to BenDeLaCreme. Ben is her real name and is a play on "Crème De La Crème" or "The best of the best". BenDeLaCreme is the best of Ben. She used to perform in Chicago as Teena Angst.
BenDeLaCreme is the second queen to win the first challenge and not make it to the top three. She is preceded by Morgan McMichaels of Season 2 and is succeeded by Roxxxy Andrews in All Stars 2, Nina Bo'nina Brown in Season 9 and Mayhem Miller in Season 10.
BenDeLaCreme is the second queen to win the first challenge on 2 separate seasons, after Roxxxy Andrews (on Season 5 and All Stars 2.
BenDeLaCreme is the first queen to win 2 challenges in a row on the first 2 episodes on All Stars 3
BenDeLaCreme is the fourth queen to win 3 challenges in a row in an All Stars season, the first and second being Chad Michaels and Shannel (Team Shad) in All Stars 1 the third being Alaska in All Stars 2
BenDeLaCreme is the first queen...

...to win the first 4 main challenges in a row.
...to win Snatch Game twice.
...to win 5 challenges in a single season.

BenDeLaCreme has the most challenge wins combined across 2 seasons with 7 challenge wins in total.
In All Stars 3, BenDeLaCreme became the second queen, after Bianca Del Rio, to never place low or bottom during the competition.
BenDeLaCreme is the second queen to win a challenge and leave the competition in the same episode, after Willam Belli in Season 4.
BenDeLaCreme is the second queen in Drag Race history to leave the competition voluntarily, after Adore Delano.

Coincidentally they were both the first two to enter in Season 6 and Libras.

BenDeLaCreme lip synced a total of 7 times across her two seasons. Along with Shangela, she holds the record for most times lip syncing on the show.

Of those 7 lip syncs, 5 happened during All Stars 3. This makes DeLa tied with Peppermint for most times lip syncing in a single season, though as Peppermint lip synced twice in the final episode of her season, BenDeLaCreme has lip synced in the most separate episodes of a season.

BenDeLaCreme is the most successful contestant ever, with an overall performance score of 9.167 on All Stars 3.
BenDeLaCreme is the only queen in All Stars 3 to not be in the bottom 2 or low.
BenDeLaCreme is the only queen never to place in the bottom during an All Stars Season