Contestant Spotlight: Bianca Del Rio
Bianca Del Rio is the stage name of Roy Haylock, an American drag performer, insult comic, and costume designer. She is best known for being the winner of the sixth season of RuPaul's Drag Race. She is a fixture in the New Orleans and New York City club scenes, often working with Lady Bunny.
Being a fan-favorite throughout and after season six, she is considered by many to be the best winner of RuPaul's Drag Race. She is one of two queens to have never placed in the bottom three and has the second-best statistics of any queen, after BenDeLaCreme in All Stars 3.
RuPaul's Drag Race
Since the premiere of Season 6 was split into two parts, Bianca did not compete on the show until the second episode. For the main challenge of episode two, contestants had to create themed party outfits out of materials from a box. Bianca won this challenge for her Luau themed dress, something which RuPaul said she would personally wear.
As an insult comic, Bianca is known for her "snarky" remarks towards other contestants (which tend to have a bit of truth to them), her frank attitude, and her comedic timing. This has caused some tension among her and certain other contestants such as Gia Gunn, Trinity K. Bonet, & Laganja Estranja, although she seems to have a love-hate relationship with Adore Delano, after Adore stated how she wouldn't want to work with Bianca due to her attitude. In spite of this, Bianca let Adore borrow a waist cincher after Michelle Visage criticized Adore for not wearing one. After the Snatch Game episode, Adore and Bianca grew a lot closer, even taking turns reading and laughing with each other.

Bianca was also at odds with Trinity K. Bonet, who would become very moody whenever she had trouble with a challenge. After Trinity revealed her HIV positive status to the queens, Bianca commended her and shared her own personal story about her HIV positive friend who passed away. Bianca commented that Trinity's moody behavior may have been due to her secret she was keeping. Like Adore, Bianca ended up getting very close to Trinity after being paired with her in Episode 7, Glamazon by Colorevolution.
Bianca won her second challenge during Episode 8, Queens of Comedy, where the queens had to perform a stand-up comic routine in front of an audience of senior citizens. RuPaul commented during the judging that not only did she "kill it," she "murdered it". The other judges raved about her routine. Her jokes were about the audience, ("I'm here, I'm right over here! Damn, Pearl Harbor must have did you in!") herself, ("my mother insisted we stay true to our Spanish heritage so my first words were … [knocks microphone] "housekeeping!") and the judges ("I will show you versatility when Santino wins a sewing competition and Visage wears a fucking turtleneck... Ain't gonna happen!).
Episode 10, Drag My Wedding, was her third win. The contestants had to transform grooms into brides to be wed on the main stage. They also had to make themselves mother of the bride, which meant they had to show a strong family resemblance. Bianca and BenDeLaCreme were both strong contenders for that week's challenge. However, it was Bianca who triumphed that week, winning a trip for two to Hawaii, while her drag daughter and his wife won the same prize.
During Episode 11 of Untucked, her friend's daughter, Lola, sent her a message, and the child calls her drag name "Roylady", with Roy being Bianca's real name, and lady when she is in drag. Bianca appeared to get very emotional. Adore said, "Bianca is definitely showing us a side of her we have never seen before". We then see pictures of Lola wearing Bianca's drag outfits, and Bianca carrying Lola as a baby, feeding her from her bottle. Lola later appeared at the reunion, where she recited a poem to Ru about why she thought Bianca should win.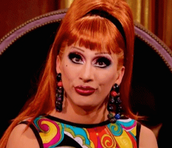 On the show, Bianca admits that although she has met some nice people, she is not there to make friends, she is there to win. She said she doesn't go out of her way to make friends nor enemies.
Bianca, along with fellow contestant Courtney Act, both went on to be top three finalists without ever placing in the bottom two on any episode, the first time two contestants have accomplished this feat during the same season. On May 19, 2014, Bianca was announced as the winner of the sixth season of RuPaul's Drag Race.
Aftermath
Bianca, along with her friend Matt Kugelman, raised enough money to fund their movie entitled Hurricane Bianca and has cast Drag Race alumni Shangela Laquifa Wadley, Willam Belli, and Alyssa Edwards. She also cast SNL star Rachel Dratch, and Broadway star Alan Cumming to star in their movie, Dratch as a homophobic vice principal and Cumming as a member of the board for a National Teaching Association award. Cameos also include RuPaul Charles as a weatherman and Joslyn Fox as a local bartending drag queen.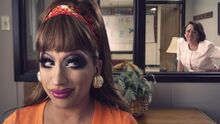 RuPaul's Drag Race Stats
Bianca Del Rio
Season Competed:
Season 6
Ranking:
1st (Winner)
Mini-Challenges Won:
1 (ep 10)
Times as Team Captain:
0
Main Challenges Won:

3 

(ep. 2, 8, 10)
Times in Bottom Two:
0
Episode Eliminated:
N/A
Winning
Although BenDeLaCreme was initially in the lead, being the first contestant to win two main challenges, after Episode 10, Bianca became the front-runner to win the competition with a total of three main challenge wins. Since Bianca had received mainly high markings on most of the challenges, had won three challenges, and hadn't been in the bottom two, she became the projected front-runner to win.
On Episode 14, Reunited, Bianca was crowned "America's Next Drag Superstar", the title which many fans predicted she would win. She is considered by many to be the best winner of all ten seasons. Her humor and unique style made her extremely popular among fans of the show. In 2015, fans voted for their favorite winner from seasons 1-6 of RuPaul's Drag Race in a Logo TV poll, in which Bianca came first.
Drag Name Origin
She was at a bar drunk with a friend in New Orleans. She just started doing drag and her friend said that she needed a name, and mentioned that she reminded her of her good friend named Bianca. Then Del Rio came out of nowhere from her friend also. Bianca thought it was just a good way to explain her eyebrows because she is Latino.
Discography
2014 — "Hot Mess" by Sherry Vine & Bianca Del Rio
Trivia
Bianca Del Rio has the second best score in the Dusted Or Busted scoring system with the score of 11 with her never placing low or landed in the bottom while on the show. She originally had the best Dusted or Busted score but was recently exceeded by BenDeLaCreme
Bianca Del Rio and Courtney Act made Drag Race herstory by being the first queens to both reach the Top 3 together without ever being in the bottom two.
Bianca Del Rio was the first queen in drag race herstory to never place anything lower than safe during her run on the show. The only other drag race queen to achieve this is BenDeLaCreme in All Stars 3
Bianca has a goddaughter named Lola.
Bianca was the one to announce her predecessor, Jinkx, as the winner of Season 5 during the crowning.
 Bianca, Alaska  and Chad Michaels appeared in the most seasons of all the winners, appearing on five seasons in total. Bianca first appeared on Season 6  second on Season 7 , third on Season 8 , fourth on  All Stars 2, and fifth on Season 10 .
Bianca release advice book called "Blame it on Bianca" in 2018.
Memorable Quotes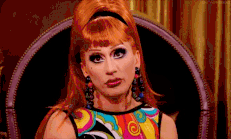 "Well, Well, Well. I hope you bitches are ready"
"Great, a drag queen who's early. That never fucking happens."
"Bitches are sweating!"
"Apply it!"
"She doesn't even know how to execute Couture, she can't even spell it!"
"You can call me Jiggly!"
"Trinity reminds me of a dear friend of mine from New Orleans… she's dead".
"She looks like she walked into Claire's, fell on the accessories rack, and said 'I'll take it!'"
"Oh I forgot you're not sensitive, you're Beyoncé!"
"She's overthinking, and she-- She's thinking about a sandwich."
"BALONEY!"
"IM TALKING, IM TALKING!"
"Rule #1: You gonna do a Ruveal, get out of the dress. We all know 'Ruveal' in French means 'Take the shit off.'"
"Joslyn's drag daughter looks like that one girl gremlin, remember that girl gremlin in the movie? Don't pour water on that gremlin because she will multiply!"
"Miss Darienne is turning it, because you know Miss Darienne had this song on cassette when it came out."
"You shady bitch…"
"Wide and Sassy, that was my name in prison."
"I've got a large dick, no credit, and a tendency to take things that don't belong to me."
"WE ARE DRAG QUEENS IN A DRAG QUEEN COMPETITION! THE ONLY THING WORSE IS FUCKING PRISON!"
"Really bitch?"
"Not today Satan, not today!"
"I'm clown realness"
"Don't piss on my leg and tell me it's raining"
"Well if you finally do get exposed, You better have something to show"
"My mother insisted we stay true to our Spanish heritage so my first words are *knock knock* Housekeeping"
"Bring both eyes. I'm here, I'm right over here! Damn, Pearl Harbor must have did you in!"
"You've been filming this?" (In reaction to Ru asking if she was ready for the world to see her nice side)
"Calm Down, Beyoncé."
"Need help packing? Beat it, queen!"
"Hope you're packed!"
"Oh, that was so condescending, HAHAHA!"
"I HATE YOU! IT BARES REPEATING!"
"If I wanted to come for you I'd come into your room at night and cut your wigs up."
"Get the fuck out"
"Let me ask you a fair question: What do you do successfully? Quickly."
Reading mean comments* "Stop fucking bullying Laganja-' Oh Laganja wrote this one."
Gallery
Videos
Follow Bianca