Chi Chi Kat DeVayne or simply Chi Chi DeVayne on the show, is the stage name of Zavion Davenport, a drag performer from Shreveport, Louisiana. She is one of 12 contestants to compete on the eighth season of RuPaul's Drag Race.
Biography
Her drag mother was Kourtni DeVayne, died in 2008. She was then adopted by Ladi Phat Kat, both of Shreveport.
During the finale, she was made an official Dreamgirl by Jennifer Holliday. Her lipsync to "And I Am Telling You I'm Not Going" recieved widespread acclaim from fans of the show.
She was eliminated on episode 9 of RuPaul's Drag Race, landing in 4th place.
Entrance
"Laissez les bons temps rouler!" (French for "Let the good times roll"; entrance quote)
Quotes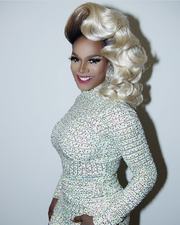 "Creole fish!"
"I'm a cheap queen."
"I don't get ready, I stay ready!"
"This is some bulllllshit."
"And in that same pot, there'll be chitlins boiling for all!"
"What the fuck?"
"Wake up, wake up, wake up! This ain't no dream! I'm back, the bayou queen." (Entrance in All Stars 3)
"Milk. Just like the drink, you give me the shits."
Trivia
Chi Chi was the 99th queen to walk into the Werkroom in season 8.
Chi Chi had two jobs before starting Drag Race, washing cars and checking out groceries.
Follow Chi Chi