Farrah Moan is the stage name of Cameron Clayton, a drag performer from Austin, Texas. She is one of the 14 queens who competed on the ninth season of RuPaul's Drag Race. She finished in eighth place.
Entrance
Season 9
"So this is what it looks like.."
Rupaul's Drag Race
Season 9
| Season Competed | Season 9 |
| --- | --- |
| Ranking | 8th |
| Mini-Challenges Won | 0 |
| Times as Team Captain | 0 |
| Main Challenges Won | 0 |
| Times in Bottom Two | 2 (ep. 5, 8) |
| Episode Eliminated | Episode 8 |
Episode one: "Oh. My. Gaga!": For the main challenge, the girls had to compete in a charisma, uniqueness, nerve, and talent pageant, serving up a hometown look and a Lady Gaga look. For the hometown look, she did a beautiful red dress with a headdress, representing Las Vegas. She received negative reviews for not being "Las Vegas" enough. For the Gaga look, she chose Gaga's Alejandro music video look. She received negative reviews for hiding her small self, and not having a reveal. Despite that feedback, Gaga liked her makeup and poise.
Episode three: "Draggily Ever After": The main challenge was to make a princess and a sidekick for it. Farrah struggled due to her not knowing how to sew. Fellow queen Eureka helped her hot glue some of her outfit to alleviate some stress. The other queens were critical of Farrah's lack of ability to sew, noting that the show had been running eight years, and she should know what to expect at this point. Farrah chose to do a mermaid underwater theme for her princess and sidekick. The judges didn't seem to like it because the blowfish she did was very 'distracting' and her outfit was comparable to a former queen's, Derrick Barry, outfits. It was described as "a piece of fabric wrapped around her waist." by guest judge Todrick Hall. Farrah was in the Bottom 3 and cried when she found out she was safe. In Untucked, many fans of the show were attacking Farrah due to Shea Couleé's statment, "Who's after Peppermint? Why ya'll acting brand new?". Farrah stated that she was listening to the lipsync song because she was 90% sure it was going to be her vs Kimora Blac.[1]
Episode five: "Reality Stars: The Musical": Farrah was assigned the role of Kylie Jenner. She was negatively critiqued for not standing out and bringing personality to her role and was put in the bottom two against Cynthia Lee Fontaine. Due to Eureka being disqualified for medical reasons, they both stayed.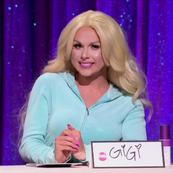 Episode six: "Snatch Game": Farrah decided to do Gigi Gorgeous. The judges told her that she could have done more such as throw more lipstick to the back of the set. She placed bottom 3 but did not lip sync for her life.
Episode eight: "RuPaul Roast": Farrah and Alexis Michelle had tension early in the episode when Alexis was offended by Farrah's read on Alexis's size in the Reading is Fundamental challenge. Farrah apologized for the read later. Farrah bombed Michelle Visage's roast and was criticized for being too harsh and not funny, and she made the excuse that she hated being mean. Farrah was put in the bottom two against Alexis, and was eliminated.
Quotes
"There's usually a feather or two or maybe five dead ostriches."
"That's my Vegas Sister, Kimora is gonna be known for that ass. I can see it having it's own t-shirts."
"Someone told me for the first time in my life that I wear too much highlighter!"
"Huh, So this is what it looks like.....to go home"
"You know what I say! You can never wear too much highlighter" -Farrah Moan as Gigi Gorgeous
"In fact, I think there's some lube on it right now. Oh, kind of making me horny"
"I can't wait to get out of here and be a hoe!"
"They're perfect, they're beautiful, they look like Linda Evangelista, they're a model" -Farrah Moan about the chairs they were sitting on from 204 events
"You don't love me." -Farrah Moan to Valentina at the Reunion
"Let's make a round of applause for the fan favorite!"
Trivia
Cameron and vlogger Matthew Lush tried dating, but have not continued.
Farrah used to be a popular Myspace user under the name Cameron Ugh.
Farrah Moan is a play on the word 'pheromone'. She took the name Farrah from Farrah Fawcett, while Moan is a reference to 'being a whore' (this was said as a joke).
Cynthia Lee Fontaine helped Farrah get gigs early on in her drag career.
A picture of Farrah's elimination leaked a few days before her final episode actually aired.
Farrah was not as prepared as she could have been for Season 9, as she hadn't expected to get accepted for the show on her first time auditioning.
Farrah is the second youngest to compete on her season - she was 23 during filming, while Aja was the youngest at 22 years old.
Farrah was homeless when filming Season 9 and was staying at a friend's place for a while.
Ad blocker interference detected!
Wikia is a free-to-use site that makes money from advertising. We have a modified experience for viewers using ad blockers

Wikia is not accessible if you've made further modifications. Remove the custom ad blocker rule(s) and the page will load as expected.