'RuPaul's Drag Race' Profile: Jinkx Monsoon
Jinkx Monsoon is the stage name of Jerick Hoffer, a drag performer, actor, singer and the winner of the fifth season of RuPaul's Drag Race.
Biography
Jerick Roman Lamar Hoffer was born on September 18, 1987, in Portland, Oregon. The oldest of four children, Hoffer attended DaVinci Arts for middle school and graduated from Grant High School. Hoffer came out as gay in middle school. They first performed in drag when they were 15 at the underage nightclub, Escape.
Hoffer was raised Catholic. When they were eighteen, they found out that they were of Russian Jewish ancestry on their mother's side. Their drag persona, Jinkx, is characterized as Jewish as a way of reconnecting with their heritage.
Hoffer worked and paid their way through college, graduating Summa Cum Laude with a BFA in Theater from Cornish College of the Arts in 2010. They have lived in Seattle, Washington, since 2006.
Hoffer later came out as transgender non-binary and now goes by they/them pronouns. "I am male-bodied, I prefer to identify as non-gendered/non-binary. I prefer They/Them." they said on Twitter.
Career
Jinkx began their career working on stages since the age of 15, beginning at S.M.Y.R.C. in Portland, OR., a queer youth resource and recreational center. They appeared as the lead dancer in the world's largest drag queen chorus line, which made the Guinness Book of World Records. By 2012, they had advanced to roles in Seattle theaters, playing Moritz in "Spring Awakening" (produced by Balagan Theatre),  Angel in "RENT" (produced by The 5th Avenue Theatre) and starring in Hedwig and the Angry Inch (produced by Balagan Theatre and Seattle Theater Group). In 2013, Hoffer starred in Hairspray the Musical as Velma Von Tussle and reprised Hedwig in "Hedwig and the Angry Inch" (produced by Balagan Theatre and Seattle Theatre Group) in Dec 2013.
A trained singer, Hoffer is half of the musical duo The Vaudevillians, a 1920s revival act, created by Hoffer and their musical partner Richard Andriessen, better known as Major Scales. After winning RuPaul's Drag Race Season 5, they booked The Vaudevillians for one night only at the Laurie Beechman Theater off Broadway, NYC. The one-night show continuously sold out and had to be extended for 6 months.
Revealing a wonderful voice on episode six of RuPaul's Drag Race: Can I Get An Amen?, Jinkx then put out 'The Inevitable Album' in May 2014. Four years later on the 12th of January 2018 Jinkx released "The Ginger Snapped".
Jinkx also appeared on the popular western cartoon Steven Universe as a voice actor for the character Emerald.
Character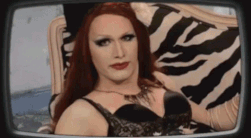 On their "Meet The Queens" interview for Season 5 of RuPaul's Drag Race, Jinkx Monsoon describes themself as being Seattle's hottest, youngest MILF, and as the hardest working single mother in show business. In the interview, they explain how they came up with their stage name:
"The name comes from Jinx, like you owe me a coke and Monsoon like the natural disaster because if there's a one in a million chance that something will go awry it's most likely going to happen to Jinkx, of course..."
In the first episode of RuPaul's Drag Race, Jinkx also described themselves as "Seattle's premier Jewish narcoleptic drag queen".
Hoffer describes their drag as being about contrasts. RuPaul describes as "a stage left, off-center kind of quality".
Drag Name Origin
Jinkx was their nickname at an outreach center for gay youth in Portland. It comes from the fact that if there is a "one in a million" chance that something's going to go wrong, it's going to happen to them. Monsoon came from the character Edina Monsoon from Absolutely Fabulous.
RuPaul's Drag Race
In November 2012, Logo announced that Jinkx Monsoon was among 14 drag queens who would be competing on the fifth season of RuPaul's Drag Race. They were inspired to audition after seeing Sharon Needles on the fourth season of the show. Monsoon won the main challenges for the episodes "Snatch Game" and "Drama Queens". For the "Snatch Game", they impersonated Edith Bouvier Beale, who was known for appearing in the documentary Grey Gardens. Monsoon also impersonated third season contestant Mimi Imfurst for the episode "Lip Synch Extravaganza Eleganza". As part of RuPaul's Drag Race, Monsoon sang on the "We Are the World"-inspired song "Can I Get an Amen?" The song's proceeds helped benefit the Los Angeles Gay and Lesbian Center. Monsoon also holds the record for most consecutive weeks being in the top, at 9 weeks. On May 10, 2013, Monsoon was named the Season 5 winner of RuPaul's Drag Race, winning the title of "America's Next Drag Superstar."
RuPaul's Drag Race Stats
Jinkx Monsoon

| | |
| --- | --- |
| Season Competed | Season 5 |
| Ranking | 1st (Winner) |
| Mini-Challenges Won | 1 (ep. 4) |
| Times as Team Captain | 1 (ep. 4) |
| Main Challenges Won | 2 (ep. 5, 9) |
| Times in Bottom Two | 1 (ep. 11) |
| Episode Eliminated | N/A |
Jinkx is the winner of Season 5.
Jinkx won 2 main challenges during her season, on episode 5 (Snatch Game) and episode 9 (Drama Queens).
Jinkx won only one mini-challenge in episode 4, "Black Swan: Why It Gotta Be Black?" along with Coco Montrese where they became a team captain.
Jinkx is the first contestant in series history to be ranked in the top placings in each episode for more than five consecutive weeks, with nine consecutive weeks.
Jinkx is the first season winner to not win a main challenge within the first three weeks of competition, winning her first main challenge during week 5 (ep. 5). The second being Sasha Velour with her first challenge win being in week 4 (ep. 4)

Coincidentally both queens only had 2 challenge wins when they won their season

In episode 5, Jinkx portrayed American socialite Little Edie, and won their first main challenge.
The only time Jinkx placed in the bottom two was in episode 11, "Sugar Ball" where she lip-synced against Detox to the song "Malambo No. 1" by Yma Sumac.
The prizes Jinkx won included a custom jewel package from 'Fierce Drag Jewels' (ep. 5), a pair of fur coats from 'Fabulous-Furs' (ep. 9), and as the season winner, she won a supply of Colorevolution Cosmetics, a one-of-a-kind trip courtesy of AlandChuck.travel, a headlining spot on Logo's Drag Race Tour featuring Absolut Vodka and a cash prize of $100,000.
Entrance
"You know, I can hear the cackling from down the street."
Memorable Quotes
"Okay Detox, with the feathers."
"I am Seattle's premier, Jewish, narcoleptic, drag queen!"
"I'm not gonna make an excuse for it, I wear my narcolepsy as a badge of pride. It's something I've had to- *falls asleep*"
"Honey dances like a white chick!"
"When you're dealing with people judging what you do, you just have to let it roll off like water off a ducks back."
"Well I don't know her personally, but she looks older than mother darling, so I said when she steps into the voting booth she just 'siezures', spelling?" (In the Snatch Game as Little Edie)
"Quite the scandal actually, with my cousin in law really. It was in all the magazines at the time." (As Little Edie in the Snatch Game)
"CAN I GET AN AMEEEEEEEEEEEEEEEEEN!"
"Roxxxy Andrews, there are two types of peanut butter creamy and crunchy."

"Detox, you won the challenge you can take the chicken mask off now."
"*Pfft* Hmhmhm, Okurr..." (About Coco Montrese)
"It's gonna be hard to top Coco, but look at her. Who would wanna top Coco?"
"Michelle Visage is so full of semen, period. No, seriously she's a whore."
"You're so full of shit the toilet's jealous."
"I tried to tease it but I just pissed it off."
"Delusion, convince yourself!"
"I know this will be hard to believe, seeing as I'm the most polished, prettiest drag queen here."
"I am serving up some Sofía Vergararara realness."
"Hilda, you are muy estúpido if you think you are going to take over our familia!" (In the Telenovela challenge)

"You ever been blowed by a girl with silicone lips, I call it the slip and slide, I just put my mouth on it and go *blublublub*, MESH!" (As Detox in Everybody Loves Puppets)
"Thank God I'm not wearing that hoop skirt!"
"GET READY BITCHES 'CAUSE IT'S MONSOON SEASON!"
"No, Josh, I personally hate myself wildly! It's a little game I like to play 'how much can I hate myself today'." (Drag Queens Reading Mean Comments)
"Gurl, why you gonna name yourself 'Brent Merlinhoot Boodangy' ?"(Drag Queens Reading Mean Comments)
"I didn't mind being slapped across the face I was happy for the airtime." (When Aquaria accidentally slapped her in season 10)
Discography
Albums
2014 – The Inevitable Album
Ladies In Drag (Foreword by Fred Schneider)
No One As Sorry As Me
Coffee & Wine
My Heart Belongs To Daddy
The Bacon Shake (feat. Fred Schneider)
Everybody's Girl
Hold On
Hi-Jinkx Samba
Witchcraft (feat. Major Scales)
What About Debbie
Ballad Of Johnny And Jack
One Tiny Taste
Creep
A Song To Come Home To
Falling In Love Again
Non-Album Singles
2013:
"Can I Get An Amen?", by RuPaul feat. Drag Race Season 5 Cast
"Schizophrenic", by Two Dudes In Love feat. Jinkx Monsoon
"Bring It", by Manila Luzon feat. Jinkx Monsoon
2018 – The Ginger Snapped
What's On
She Evil (feat. Fred Schneider)
Cartoons and Vodka
Boys in the Band (feat. Amanda Palmer)
I Just Wanna Make Love to You
Just Me (The Gender Binary Blues)
Friends
Sugar Mama
This Town
Pianoman (feat. Lady Rizo)
Take It Back
You've Really Got a Hold on Me
Trivia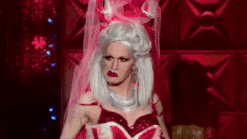 Jerick Hoffer graduated summa cum laude with a degree in theatrical performance from Cornish College in Seattle.
Once dated a guy that sounds like 'evil Kermit.'
Hoffer suffers from narcolepsy, which they explained to the other contestants during the show's season premiere.
Hoffer's journey as Jinkx Monsoon is documented in the five-part documentary web series "Drag Becomes Him".
Jinkx identifies as non-binary, preferring to use gender-neutral pronouns (they, them) when out of drag.
Jinkx's catchphrase "water off a duck's back" actually comes from a saying they heard from fellow Seattle queen Robbie Turner, who later competed on season 8.
Jinkx is the first winner to have won the Snatch Game of their season (not including Chad Michaels who won Snatch Game on Season 4 but won Season 1 of All Stars). Bob The Drag Queen, Alaska, and Aquaria also achieved this on Season 8, All Stars 2, and Season 10 respectively.
Jinkx had a crush on Ivy Winters during filming for Season 5.
Ironically, Ivy Winters ended up getting the title of Miss Congeniality the same day Jinkx got the title of America's Next Drag Superstar
Jinkx is tied with Shea Couleé of Season 9 for the second best pre-finale track record in Drag Race herstory (behind Bianca Del Rio, who never had a single low placement during her run on Season 6).
Jinkx voices Emerald on the fifth season of Cartoon Network series Steven Universe.
Jinkx was the first winner that didn't win a sewing challenge in the season they won, being followed by season 8 winner Bob The Drag Queen and All Star 2 winner Alaska Thunderfuck.
Interestingly enough, all of the three had won Snatch Game and were in the bottom of the last challenge.
Jinkx has been in some controversy regarding her song 'Cartoons and Vodka', due to being mistaken as the celebrity who ripped off the Youtuber CypherDen.
Reviews About Jinkx Monsoon
"Jinkx Monsoon is not just a drag queen, she's the best fucking performer in Seattle." - The Stranger
"I fucking love Jinkx I have idolized her for years and I fucking love her to death." - Cherry Swan
"... Sings with the power of two Ethel Mermans in a bar brawl..." - Adrian Ryan, The Homo Agenda
"No one should be this young and yet this incredibly talented." - Broadway World
"Jinkx shows off talent that was only glimpsed at on "Drag Race" and proves to be a real star on stage" - Huffington Post
"...everyone leaves this show with sides aching from laughter." "A pure delight." - New York Times
Follow Jinkx