Kennedy Davenport is the stage name of Reuben Asberry Jr., a drag performer who competed in Season 7 of RuPaul's Drag Race.
Entrance
"Well, hello!"
RuPaul's Drag Race
Kennedy Davenport

| | |
| --- | --- |
| Season Competed: | Season 7 |
| Ranking: | 4th |
| Mini-Challenges Won: | 2 (ep. 6, 8) |
| Times as Team Captain: | 1 (ep. 3) |
| Main Challenges Won: | 2 (ep. 4, 7) |
| Times in Bottom Two: | 2 (ep. 3, 11) |
| Episode Eliminated: | Episode 12 |
About Kennedy Davenport
Kennedy Davenport was Sahara Davenport's drag sister. She is in the drag family of Davenports. She is from Dallas, Texas and attended the BFA Dance program at the North Carolina School of the Arts.
Kennedy has won several pageant crowns and is known for being a polished, professional queen, who is well-renowned for her incredible dance numbers and lip synching skills.
Drag Name Origin
Her name was given by her drag mother, Kelexis Davenport, who said that Kennedy was a unisex name and appealed to different audiences. Davenport came from Divine's role as Dawn Davenport in Female Trouble.
Memorable Quotes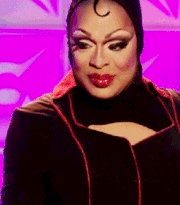 "Opinions are like buttholes...everybody got one"
"IJS: I'm just sayin"
"Love is understanding, unconditional. Love is accepting, and never fails."
"Girl, please! Nope. Sorry. Next"
"I am team Jaidynn Diore Fierce!"
"Bitch, don't fuck it up!"
"Girl , no comment!"
"Shut up!"
"Wrong note, sugar."
"It is figured out."
"Everything gets bigger in Texas, and I fit right on in!"
"The struggle is real."
"I'm old school... With a touch of new school"
"After a long night of hooking, trade didn't like the session so he had gutted me..and set me on fire..but I didn't die..bitch, I crystalized…and now I'm a Glamazon bitch, ready for the runway" - talking about her Death Becomes Her runway look
"Oh, oh, oh, oh okay."
Ad blocker interference detected!
Wikia is a free-to-use site that makes money from advertising. We have a modified experience for viewers using ad blockers

Wikia is not accessible if you've made further modifications. Remove the custom ad blocker rule(s) and the page will load as expected.