Kim Chi is the stage name of Sang-Young Shin (신상영), a drag performer from Chicago, Illinois. She is one of 12 contestants to compete on the eighth season of RuPaul's Drag Race and finished the season as a runner-up alongside Naomi Smalls.
RuPaul's Drag Race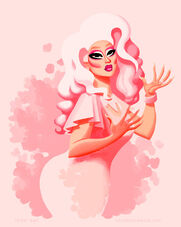 In Episode 1: "Keeping It 100", Kim Chi did well in the photoshoot mini-challenge, where the queens had to pose with previous winners. For the main challenge, she was assigned the "RuPaul's Hair Extravaganza" design challenge from Season 3. She won the challenge due to her photo and acclaimed Givenchy-inspired outfit, despite being critiqued on her runway walk by Michelle Visage.
In Episode 2: "Bitch Perfect", Kim Chi was chosen last and was placed on the team "Lady Bitches". On the main stage, she was in the bottom 3, due to her lack of dance ability (Bob The Drag Queen commented and said that she "was possibly the worst dancer in RuPaul's Drag Race herstory") and was critiqued again on her runway walk, but was saved from lip syncing by her outfit and personality.
In Episode 4: "New Wave Queens", Kim Chi formed a team with Naomi Smalls and Robbie Turner, who she labels as "Team Best Friend Race". She names the team containing Naysha Lopez, Derrick Barry and Chi Chi DeVayne "Team Leftovers", as they are the remaining members who weren't instantly made a team. Kim Chi, Robbie Turner and Naomi Smalls were Team Punk and were the winning team, with Robbie being the winner of the New Wave Queens Challenge.
Kim Chi

| | |
| --- | --- |
| Season Competed: | Season 8 |
| Ranking: | 2nd/3rd |
| Mini-Challenges Won: | 0 |
| Times as Team Captain: | 0 |
| Main Challenges Won: | 2 (Ep. 1, 8) |
| Times in Bottom Two: | 0 |
| Episode Eliminated: | N/A |
Entrance
Season 8
"I came to chop suey the competition!"
Trivia
Memorable Quotes
Gallery
Follow Kim