Manila Luzon is an American reality television personality and drag queen portrayed by Karl Westerberg. She rose to prominence after finishing as the runner-up of the third season of RuPaul's Drag Race.
She later went on to compete in the first season of RuPaul's Drag Race All Stars where she was paired up with Season 4's Latrice Royale to create "Team Latrila". They were eliminated in Episode 3 by "Team Rujubee".
She, along with her All Stars 1 partner Latrice Royale, was invited back to RuPaul's Drag Race to compete on All Stars 4 in 2018.
RuPaul's Drag Race
Manila Luzon

| Statistics | Season 3 | All Stars 1 | All Stars 4 |
| --- | --- | --- | --- |
| Placement | Runner-Up | 7th/8th Place | TBA |
| Main Challenges Won | 3 (ep. 5, 12, 13) | 1 (ep. 1) | TBA |
| Mini Challenges Won | 3 (ep. 4, 9, 10) | 0 | TBA |
| Times in Bottom | 1 (ep. 8) | 2 (ep. 2, 3) | TBA |
| Episode Eliminated | Episode 15 | Episode 3 | TBA |
Season 3
Manila did very well on the show, landing only in the bottom once, to the song "MacArthur Park". That very lip-sync is now considered legendary. It is considered by many to be 'the best lip-sync of all time" RuPaul stated, "That is what I call a lip-sync for your life!". Manila's hilariously dramatic interpretation of the song (about cake) ensured her stay in the competition.
Manila had a variety of memorable runway looks, most of which were made by Ivy Winters who eventually went on to compete in Season 5, which included a Sesame Street themed outfit, a pineapple design dress, a honeybee outfit made from wigs, China doll attire, a 1920's' flapper girl, a carrot cake, and a Jessica Rabbit inspired Playboy outfit.
Manila won three main challenges. Episode 5, QNN news, as the hilarious Asian interviewer, Episode 12, Jocks in Frocks, after transforming a jock and herself into Chinatown Glamazons and Episode 13, Make dat Money, where she made and wore three looks.
Manila won three mini challenges. Episode 4, with Carmen Carrera, when they designed a workout leotard. In Episode 9, Life, Liberty and the Pursuit of Style, Manila won when her bedazzled bra featured torpedoes that may not have killed Ru but impressed him enough to choose her as the winner. She then received extra time to film her patriotic video to the troops. She won Rusical Chairs on Episode 10 and chose the order of the girls picking their musical genres after she chose Disco.
The Heathers
During the course of Season 3, the Drag Queens eventually became known as two groups, the Heathers and the Boogers. The Heathers consisted of Manila, Raja,
Delta Work
, and
Carmen Carrera
. The name was inspired by the movie
Heathers
(1988). On the reunion show, where they were all wearing Heather necklaces, Manila specified that a Heather was a girl who was extremely well put together, and confessed to being a Booger when she first started doing drag in New York. However, the Heathers all said that they meant it as a joke and that it wasn't serious. They apologized to the "Boogers" if it had hurt anyone's feelings and Raja even gave Stacy her necklace.
Elimination
Manila was one of the top 3 queens of Season Three and lip-synced against fellow contestant
Raja
. After
Alexis
was eliminated, Manila and Raja lip-synced to RuPaul's song "Champion", and Manila was very controversially eliminated, only getting 2nd place. Although devastated, backstage she quipped that she would get the crown from Raja if she died of old age.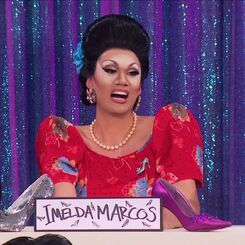 All Stars 1
Manila was brought back on RuPaul's Drag Race All Stars as one of the twelve contestants. She and Latrice Royale were paired in the first episode under the name "Latrila". Despite an early win in the first challenge, Latrice lip-synced for their lives in the second episode and won, sending home Tammie Brown and Nina Flowers (Brown Flowers) and Manila lip-synced in the third episode but lost to Jujubee and Raven (Rujubee). Their departure was extremely emotional, and Manila later said that it was not expected by either her or Latrice or their fans who picked both of them separately as front-runners.
All Stars 4
On November 8, 2018, it was announced that Manila—along with All Stars 1 running mate, Latrice Royale—would return to the competition on Season 4 of All Stars for another chance to win the crown.
Name Origin
Growing up in Minnesota, most of the people she knew were white and most of the drag queens were either white or black. She thought that bringing Asian heritage to her drag would be fun. She wanted to celebrate her Filipino heritage so she chose Manila, which is the capital of the Philippines where her mother was born. She thinks it sounded pretty. She also liked the idea that "man" was in the name, and Manila has the same number of syllables as Madonna. Luzon is the island that Manila is located on, and is the largest and the most populous of the Philippines.
Post-Drag Race
After her appearance on the show, Manila has remained very active within the LGBT community. She has been a strong activist in terms of AIDS support and research-She headlined the University of Philippines Alumni in Minnesota. In a television ad called "Red Ribbon Runway", she appeared in a designer gown that was later auctioned by Logo to fund AIDS research. Buzzfeed ranked her of the 27 Filipinos who make you proud to be Pinoy.
Manila has released eight chart-topping bestselling musical singles, "Hot Couture", "The Chop" (with Latrice Royale), "Best XXXccessory", "Lady Marmalade" (Cover with the Heathers), "Bring it" (with Jinkx Monsoon), "One Night in Bangkok", "Eternal Queen" and "Helen Keller" (with Cazwell).
She also has appeared as a professor on RuPaul's Drag U. She is one of the most successful and popular queens from all the seasons of the show. She was named number 6 most liked queen and the No.8 fastest rising queen on Drag Official. She has been verified as a celebrity on Facebook and Twitter. Manila was voted on to All Stars by fans. Even Dragopolis, the Drag Race themed game, has a section where you can actually be Manila and fight puppets. Her wit, talent and upbeat attitude are very popular with her fans (nicknamed "Fanilas").
Relationships
Luzon was in a relationship with Season 2's Sahara Davenport for six years prior to his death. Davenport died at John Hopkins Hospital, Baltimore, Maryland on October 1, 2012, due to heart failure. The first episode of All Stars 1 was dedicated to Davenport and, during the episode, Luzon stated that she would do her best to carry on Davenport's legacy as well as thanking her friends, family, and fans for their support through the grieving. She then released the song "Eternal Queen" as a tribute to Davenport.
On November 16, after several years together, she proposed to her boyfriend, Michael Alvarez in the middle of a performance at LemonLab in Santiago, Chile. The couple wed at the Silver Bells Wedding Chapel, with an Elvis impersonator as the officiant on December 24, 2017.
Memorable Quotes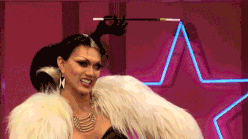 "Besides, Sahara didn't win - and I'm going to!"
"What the hell is she thinking? You can't be lifting up Drag Queens".
"Try something new - do it with an Indian guy!"
"Oh, I'm so glad you covered up your face."
"Oh, Mimi's doing the costume change. The big reveal. THE BIG REVEAL! Oh… that's it?"
"Gag!"
"No, I'm 6 feet tall and Ongina is the literally the size of a fricking Barbie doll and she doesn't have hair. And nobody could confuse me with Jujubee because I had her killed."
"The thing I have, that you haven't seen on your show is that I'm Asian - and I am taller than 5'2!"
"WERK!"
"How dare you!" (Money Ball challenge)
"She's always halleluing" (About Shangela)
Latrila is back in the house!
Trivia
She stated in her Feeling Fruity episode that she was bisexual before turning fully gay. Also, Manila stated she had high school ex-girlfriends (named Elizabeth, and Alaya) before deciding to come out.
Her first kiss was with her high school girlfriend. A year older than she was, because likes her women older back then. She said it was thrilling, but will never kiss a girl again.
Her black and blond streak hair was not always her look, she used to switch between black wigs and blond wigs. Her signature hair is actually suggested by Sahara Davenport before she was casted for Season 3.
She is lactose intolerant, as she stated on the behind the scenes on her music video for "Ice Cream".
She has no drag mother. But she considers RuPaul, Ongina and the early NYC-scene as her inspiration in doing drag.
She can cook.
She has a striking resemblance to Drag Race Thailand contestant; Dearis Doll.
Gallery
Videos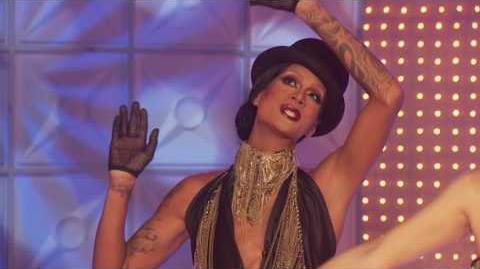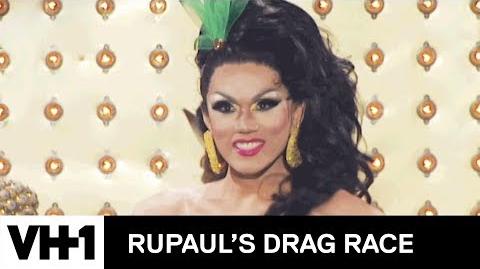 Follow Manila