Max Malanaphy, known simply as "Max" during her time on RuPaul's Drag Race, is a drag performer from OZ. Best known for being a contestant on Season 7 of RuPaul's Drag Race, coming in at 8th originally but then moved to 9th due to Trixie Mattel re-entering the competition. Max was born in Portsmouth, New Hampshire, and was 22 years old during Season 7.
Max

| Statistics | Season 7 |
| --- | --- |
| Placement | 9th |
| Main Challenges Won | 2 (ep. 3, 5) |
| Mini Challenges Won | 1 (ep. 5) |
| Times in Bottom | 1 (ep. 7) |
| Episode Eliminated | Episode 7 |
Entrance
"Well! It's about time."
Drag Name Origin
Max came from her real name Max Malanaphy instead of a drag name because nothing felt right and he felt that he need the authenticity. She goes by only the first name because she felt that Malanaphy is a silly drag name.
Quotes
"Positive energies... Positive energies...!"
"It's a Drag competition; if you're not optimistic and having fun then you're not doing it right!"
"Here's some Shakespeare shit."
"I'm Max; a starlet on the rise."
"I feel very uncomfortable right now"
"That energy can't be in this situation"
(singing) "C'mon everybody and get the fuck out of my way! Boom, boom, boom,boom"
(singing) "This chair has my name on it, this chair has my name on it. I am gonna come and sit."
(singing with Violet) "Boop boop" "And I'm 'bout to punch somebody in the face" "And they re-arranged the furniture and I don't know where to go" "Let me get my drink"
"They're all very sexual"
Trivia
Max is the lowest placing contestant to win multiple challenges.
Max and Trixie Mattel were in the University of Milwaukee theater department, and were in the show No, No, Nanette together.
Max likes to snowboard.
Max has kept several different kinds of pets, including snakes, rabbits and lizards.
Max has a lizard named Smaegs.
Max is a fan of Miranda Sings and was originally going to portray her in the Snatch Game.
Max can speak Spanish.
Max opened his Twitter in March 2009 with the first tweet being "won the talent show. and is very content :)"
Gallery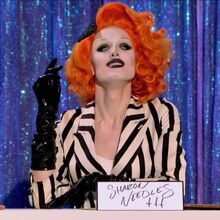 Follow Max