Monét X Change is the stage name of Kevin Bertin. She competed on the tenth season of RuPaul's Drag Race, where she came in 6th place and was voted Miss Congeniality. She was known on the show for her beauty, comedy, charisma, lip-syncs, and sponges.
Entrance Quotes
Season 10
"Oh, don't mind me. I'm just here to sweep up the competition girl."
All Stars 4
"Guess who's black in the house, bitch!"
Drag Name Origin
While eating chicken wings one day, she looked across the street at a currency exchange booth. Thinking, she took "money" to become "Monet", and accenting the E, "Monét". X Change is a play on the word "exchange".
RuPaul's Drag Race
Monét X Change

| | | |
| --- | --- | --- |
| Season Competed | Season 10 | All Stars 4 |
| Ranking: | 6th (Miss Congeniality) | TBA |
| Mini-Challenges Won: | 2 (ep. 1, 3) | TBA |
| Times as Team Captain: | 1 (ep. 3) | TBA |
| Main Challenges Won: | 0 | TBA |
| Times in Bottom Two: | 3 (eps. 4, 5, 10) | TBA |
| Episode Eliminated: | Episode 10 | TBA |
Monét is one of the 14 queens to compete on the tenth season of RuPaul's Drag Race. She won the first mini challenge of the season, and made a dress out of sponges for the "Drag on a dime" challenge. She was declared safe, despite criticism from her fellow queens.
In episode 4, she was in the bottom two along with Dusty Ray Bottoms. She won the lipsync, and sent Dusty home.
She was also in the bottom two with Mayhem Miller in episode 5, and won that lipsync as well.
After being in the bottom two twice, Monét performed very well and got great critiques for four weeks straight until episode 10, where she got eliminated.
She finished in sixth place and was voted Miss Congeniality by her fellow queens.
Farewell Message
"Long Live the Sponge!!! MXC" "Chaching mother fucker cha ching"
Memorable Quotes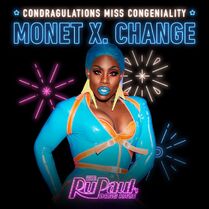 "I'm Monét X Change and you better get your currency in check, bitch."
"Monet X Change done fucked up drag, girl."
"Girl, how you up here doing a money gown, and you look like a money clown?" (about Kalorie)
"The Irish jig girl, you gotta jig it."
"You could be white Beyoncé, Weyoncé!" (to Blair St. Clair)
"And that's shade!"

"If these hoes try to come for me, I surely will cut thee. I will not hesitate to put thou in a ditch, because Maya Angelou ain't no punk bitch." (as Maya Angelou in the Snatch Game)
"Like dust, still I rise." (as Maya Angelou in the Snatch Game)
"Oh Lord, she comin' back up again!, I'm..."
"Cha-ching, motherfuckers! Cha-ching!" (Season 10 elimination, Episode 10)
"Soak it up, bitches!" (After being crowned Miss Congeniality)
Trivia
She is the drag sister of Bob The Drag Queen, which means Miz Cracker is her drag niece.
She is very good friends with Peppermint.
Monét shares the same first boy name as fellow Season 10 contestant Monique Heart.
She was born in Saint Lucia, making her the second queen born from the Caribbean to compete, the first being Vivacious from Jamaica.
Monét has a bi-weekly YouTube series called "Readdit", where she answers fan questions from Reddit.
The sponge dress she wore in the first episode of season 10 has become a meme in the Drag Race community. It has even been recreated by Yuhua Hamasaki.
Her favorite cake is red velvet cake.
She is the first queen to ever walk backstage during a lip-sync.
Monét has the current record for being in the "High" category for 4 episodes in a row without winning a challenge.
She is also the second queen to break a lightbulb onstage during a lip-sync, the first being Robbie Turner.
Monét often got critiqued by Ru and Michelle for wearing small "pussycat" wigs. However, the episodes she wore a bigger wig to please the judges, she was in the Bottom 2. This is similar to Milk of season 6 and Max of season 7, who got critiqued for certain aspects of their style (Milk's boy drag, Max's grey wigs), and got eliminated the episode they started listening to the judge's critiques.

The only time when Monet used a big wig and was not placed in the bottom, was in episode 7.

She has made a music video called "Soak it Up" featuring Bob the Drag Queen and Monique Heart. It was on the trending page of YouTube.
She is the second youngest queen to win Miss Congeniality, the youngest being Valentina.
She is also the first queen to win the title of Miss Congeniality as voted by her fellow contestants rather than the viewers.
She studied opera at Westminster Choir College.
She is the third Miss Congeniality without a Maxi Challenge win.
Monét is the only Miss Congeniality that placed 6th in the competition.
She lip-synced alongside Victoria Parker during the Season 10 finale.
She is considered one of her season's Lip Sync Assassins.
Monét is the third queen to appear on the tv show 'WWYD?', following after Carmen Carrera and Mimi Imfurst.
Videos
Follow Monét