Who is Nina Bo'Nina Brown?
Nina Bo'Nina Brown is the stage name of Pierre Leverne Dease, a drag performer from Atlanta, Georgia. She is one of the 14 queens competing on the ninth season of RuPaul's Drag Race. She finished in sixth place.
RuPaul's Drag Race
 

| | |
| --- | --- |
| Season Competed: | Season 9 |
| Ranking: | 6th |
| Mini-Challenges Won: | 0 |
| Times as Team Captain: | 1 (ep. 2) |
| Main Challenges Won: | 1 (ep. 1) |
| Times in Bottom Two: | 3 (ep. 7, 9, 10) |
| Episode Eliminated: | Episode 10 |
Season 9
Episode One: "Oh. My. Gaga!"- For the first challenge, the queens had to showcase a hometown look and a Lady Gaga inspired look. Nina's hometown look was a Georgia peach complete with a paper headpiece, and her Gaga look was the lace Alexander McQueen bodysuit that was worn at the 2009 VMA's. Both of Nina's looks received praise from the judges and even from Lady Gaga herself. Later, she was named the winner of the challenge. Nina has still not gotten her prize for winning the C.U.N.T. pagent. 
Episode Five: "Reality Stars The Musical" - The main challenge was to perform in a Kim Kardashian Musical. Alexis had won the mini-challenge, and got to chose the characters for each queen. Nina really wanted the role of Blac Chyna, but it was given to Shea. Alexis gave Nina the role of Khloe Kardashian which Nina thought was shady and rude. As rehersal went on, Nina showed herself to be really mad and pouty about not being Blac Chyna still, and the other queens got annoyed by her ignorance. Nina was put in the bottom three because of that, but luckily didn't lip sync for her life.
Episode Six: "Snatch Game" - The maxi challenge was Snatch Game. Nina decided to do Jasmine Masters, a contestant of Season 7. Nina performed well as Jasmine in the Snatch Game but was read on her runway look as Trinity Taylor wore the same look and the judges said that her look was more tailored to her body than Nina's. Nina was one of the top three that week.
Episode Seven: "9021-Ho" - The challenge was to act in a 90's teen drama. Nina struggled with pronouncing her lines and struggled with taking direction. This landed Nina in the bottom against Aja, ultimately winning the lipsync and being told to stay.
Episode Nine: "Your Pilot's On Fire" - Nina ended up paired with Valentina for the challenge, which was to star in and create TV pilots. Their pilot was awkward and messy, which ended with Nina and Valentina in the bottom two. RuPaul stopped the lip-sync when Valentina attempted to perform while wearing a mask covering her mouth. When the lip-sync restarted, Nina's energetic performance outshined Valentina, who had not learned the song. Nina stayed and Valentina was eliminated.
Episode Ten: "Makeovers: Crew Better Work" - After the previous lip-sync, Nina revealed she felt no sense of victory and felt down that Valentina had been eliminated and she sent her home. The other queens grew tired of her constantly being down and ignored her. Nina was paired with crew member Aaron for the makeover, and they bonded over their love of art. Nina struggled with sewing two garments, and decided not to sew it herself. Nina named Aaron as Ariana Bo'Nina Brown and they did a bunny theme. Nina's runway look and pair lip-sync landed her in the bottom two against Shea. Unable to avoid elimination after her third time in the bottom two, she was eliminated.
Drag Name Origin
In Nina's Meet The Queens, she said her former drag names were Beatta Bitchass and Lady Guinavere, but she decided to choose another name due to the fact that people couldn't spell her name correctly. She was attracted to the name Nina, saying that it kept appearing in her dreams. Nina's middle name was chosen by someone at a club, who randomly said 'C'mon, Nina Bo'nina!'. Pierre did not specify why "Brown" is in her name.
Trivia
She is the current Miss C.U.N.T.
Her former drag names included Beatta Bitchass and Lady Guinavere.
Nina admitted being very sad and feeling alone via a note in Untucked to fellow contestant Valentina when eliminated from the competition.
She claimed to be the first queen to walk backwards on the runway (Trinity Taylor also did so on Season 9 Episode 5).
Nina's post-elimination makeup tutorial was accidentally uploaded to Logo's website before the episode aired.
Nina is the sixth queen to win the first challenge of her season and not make it to top 3, after Morgan McMichaels of Season 2, Manila Luzon and Latrice Royale in All Stars 1, BenDeLaCreme of Season 6, and Roxxxy Andrews in All Stars 2.
Nina is the first queen of her season to lipsync a total number of 3 times
Nina is the only queen of Season 9 to lipsync 3 times, not including Peppermint's final lip syncs in the final 4.
She shares the same first drag name as Nina Flowers.
Nina was on the shortlist for Season 8, but did not make the final cast and was selected for Season 9 instead.
She shares the same birthday as fellow Season 9 queen Charlie Hides.
Memorable Quotes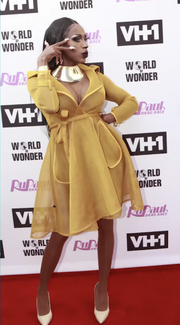 "I'm Nina, Bo'nina, Banana, Fofana, Osama, Bin Laden Brown! Boom boom boom boom!" 
"Exactly!" -Nina after Eureka asked if her drag was like an STD.  
"Somebody has to be the messy one"
"She didn't rent it from the Netflix... she bought it."
"Lady Gaga is really living for my foolishness."
"Sue me!"
"I should've been Blac Chyna."
"Can I just wallow in my depression?"
"What's your name baby?"
"You are a whooooooole lotta woman aren't you"
"I almost just want to stand on stage and point, and do a Charlie number."
"Don't cuss me out."
"Hello? Are you there? Goodbye."
"Bye bitch."
"I don't see it for me, but okay."
"Not..."
"Oop-"
Follow Nina