'RuPaul's Drag Race' Profile: Raja
Raja, also known as Raja Gemini, is the stage name of Sutan Amrull, an Asian-American make-up artist, and drag performer. Amrull is best known for his work on the reality TV show America's Next Top Model as well as being the winner of Season 3 of RuPaul's Drag Race.
Career
Amrull was the head make up artist on Tyra Banks' America's Next Top Model, where he worked on the show from Cycles 4 through 12. His clientele has included several celebrities including Pamela Anderson, Tyra Banks, Dita Von Teese, Paulina Porizkova, Iman, and Twiggy. Since 2009, Amrull has been a make-up artist to singer Adam Lambert for print media, live U.S. appearances, and Lambert's international 2010 Glam Nation Tour.
RuPaul's Drag Race
Presenting his drag alter-ego Raja, Amrull auditioned for the third season of the reality program, which included an endorsement from Adam Lambert on his audition video. Raja entered the Drag Race workroom dressed in club attire and wearing a beanie that had a giant cyclops eye on it. Highlights include wins in the first mini-challenge and main challenge of the season, impersonating Tyra Banks, winning the cake couture challenge, and winning the RuPaul-Apalooza challenge. Known for being one of the "Heathers" (a clique composed of Raja, Carmen Carrera, Manila Luzon, and Delta Work; taking its name from the popular cult film, Heathers), his attitude and numerous challenge wins were often criticized by other contestants.
During the course of the third season, Raja emerged as a clear front runner during the start of the competition due to her high sense of fashion and style as well as stellar performances. During the Snatch Game of Episode Six, she won high praise from the judges for her impersonation of Tyra Banks.
In the finale, Raja was up against fellow contestants Alexis Mateo and Manila Luzon. During the finale critiques, she mentioned Alexis is talented but does not think outside the box, and Manila was entertaining but needed to grow. In the final episode, after a lip-sync battle with Manila Luzon, to Rupaulʻs song "Champion", Raja was declared the winner of the show's third season and crowned "America's Next Drag Superstar".
Since winning Drag Race, Raja has been performing at various venues throughout the United States. As part of his duties as the third season winner of Drag Race, he toured the U.S. and Canada on Logo's Drag Race Tour in 2011, presented by corporate sponsor Absolut Vodka.
RuPaul's Drag Race Stats:
Raja

| | |
| --- | --- |
| Season Competed: | Season 3 |
| Ranking: | 1st Place (Winner) |
| Mini-Challenges Won: | 2 (ep. 2, 11) |
| Times as Team Captain: | 0 |
| Main Challenges Won: | 3 (ep. 2, 7, 10) |
| Times in Bottom Two: | 1 (ep. 12) |
| Episode Eliminated: | N/A |
Raja was the winner of her season (Season 3).
Raja won a total of three main challenges during her season, in episode 2, "The Queen Who Mopped Xmas", episode 7, "Face, Face, Face of Cakes", and episode 10, "RuPaul'-a-Palooza".
Raja won the first main challenge of her season, making her the first season winner to accomplish this
Raja portrayed Tyra Banks (who he personally knows) in episode 6, "Snatch Game", where she placed in the top 3 for that episode but ultimately did not win the main challenge.
Raja placed in the bottom two only once in episode 12, "Jocks in Frocks" where she lip-synced against Carmen Carrera to the song "Straight Up" by Paula Abdul. The performance is considered by many fans to be one of the most memorable and sexiest lip-sync battles ever done on the show.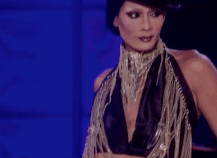 The prizes Raja won for winning her season included a headlining spot on the Absolut Tour, a lifetime supply of Kryolan makeup, and a cash prize of $75,000.
Raja is the only contestant in series history to win the $75,000 cash prize, the third highest cash prize ever awarded on the show.
Raja is the first, and so far the only Asian-American season winner in series history.
Discography
2011 - "Diamond Crowned Queen"
2012 - "Sublime"
2013 - "Zubi Zubi Zubi"
2014 - "Lady Marmalade" - The Heathers (Raja, Manila Luzon, Delta Work & Carmen Carrera)
2015 - "Cholita"
The Heathers
During the course of season three, the Drag Queens eventually became known as two groups, the Heathers and the Boogers. The Heathers consisted of Manila Luzon, Raja, Delta Work, and Carmen Carrera. On the reunion show, Manila specified that a Heather was a girl who was extremely well put together. Raja later gave her Heather necklace to contestant Stacy Layne Matthews after Matthews stated she felt insulted by the Heathers clique on the show, and Matthews excitedly exclaimed "I'm a Heather!" upon getting the necklace.
Controversy
Following Raja's win, there was some controversy from fans of the show who felt as though Raja had won less to her talent and more due to her prior friendship with RuPaul.
Raja is also known for her use of tulle in the Hair Extravaganza challenge of Season 3, which planted suspicion in Shangela, and sparked the legendary moment in Untucked known as "tullegate".
Trivia
In addition to his continuing duties as a makeup artist for Adam Lambert, Raja toured the US and parts of Canada on the Drag Race Absolut Vodka Tour in 2012. She continues to make drag appearances across the US and also has appeared on RuPaul's Drag U.

Was influenced in her drag career by Viva Sex, a legendary Southern California entertainer
The drag mother of Rhea Litre, She has adopted several drag children since winning the crown, including Anderson Brooks, Thierry Meissel, Illuminati Princess (Gregory Grey), and Bionka Simone.
Raja now appears along side Raven, the runner-up of Season 2 and All-Stars Season 1, in the WOWPresents show, Fashion Photo Ruview
Raja has also appeared in Hi Fashionʻs music video for their hit song "Amazing"
Memorable Quotes
"NAOMI CAMPBELL IS A CUM GUZZLING WHORE!!!" -As Tyra Banks in the Snatch Game
"SEESMA!" - Imitating Aja on Fashion Photo Review
"I have a masterʻs degree in FIERCE"
"I was like, is that somebodyʻs momma" - about Stacy Layne Matthews out of drag
Gallery
Follow Raja