Contestant Spotlight: Sasha Velour
Sasha Velour is the stage name of Sasha Steinberg, a drag performer from Brooklyn, New York. She is the winner of the ninth season of RuPaul's Drag Race.
Entrance
Season 9
"AAAAAAAAAAAAAAAAAAAAAAAAAAAAAAAAAAAAAAAAAH! *cough* HUUUUUUH"
Drag Name Origin
Her parents named her after Alexandra Kollontai, a Russian feminist leader. "Sasha" is a common Russian nickname for either Alexander or Alexandra, and because she was told her whole life that she had a girl's name, she kept it as her drag name. "Velour" comes from the fabric, often used as a cheaper substitute for velvet, which Sasha thinks is the perfect metaphor for drag.
RuPaul's Drag Race
Season 9
Sasha Velour

| | |
| --- | --- |
| Season Competed: | Season 9 |
| Ranking: | 1st (Winner) |
| Mini-Challenges Won: | 1 (ep. 11) |
| Times as Team Captain: | 0 |
| Main Challenges Won: | 2 (Ep. 4 and Ep. 9) |
| Times in Bottom Two: | 0 |
| Episode Eliminated: | N/A |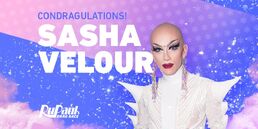 Episode One: "Oh. My. Gaga!"- For the first challenge, the queens had to showcase a hometown look and a Lady Gaga look. Sasha's hometown look was inspired by queer art and was well received, but she was criticized for her unnecessary use of props. Her Gaga look was from the Applause music video/single artwork and it received high praise. Sasha was one of the top three of the challenge but did not win.
Episode Four: "Good Morning Bitches!" - The main challenge was to do morning news and interview Naya Rivera. The two teams were Trinity Taylor's and Aja's. Aja chose Sasha. Sasha and Shea Couleé both decided to do the 'Cooking Segment' and received positive critiques from the judges for their humor and chemistry on set. RuPaul declares both Sasha and Shea Couleé as the winners of this weeks challenge. After they won, the rest of Aja's team was safe.
Episode Six: "Snatch Game"- The main challenge this week is Snatch Game. Sasha chose to portray Marlene Dietrich, and received positive critiques both for her impersonation and for her Madonna-inspired runway outfit. She placed high in this challenge but did not win.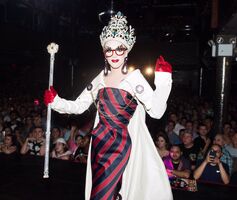 Episode Seven: "9021-HO"- The main challenge was to act in a parody version of the show 9021-O. Sasha was assigned the role of Lunch Lady Kat and was criticised by the judges for failing to make her character stand out. She placed low in this challenge, but was pronounced safe and did not have to lip sync.
Episode Nine: "Your Pilot's On Fire"- The main challenge this week was to write and act in their own TV pilots. They were told to work in teams, and Sasha and Shea Coulee chose to work together. They were praised for their concept and their humorous acting, and the two of them once again shared the challenge win.
Sasha was known for representing the "Future of Drag" through her excellence in multiple categories on the show. While considered to be overlooked on many of the challenges during the season, Sasha's astonishing and emotional lip-sync skill helped her to snatch the crown of America's Next Drag Superstar on June 23rd, 2017.
Memorable Quotes
"Don't joke about that."
"Jaymes Mansfield looks scared and confused when she walks in. Like, "am I in the right room?"
"Or is it a generic pageant hair?"
"Thank you, JonBenét Ramsey"
"We have an out and proud lesbian comedian, thank you so much, Ross Matthews"
"Ross Matthews has the face of a young gay man and a voice of an adult woman, so the opposite of Tamar Braxton"
"Radical, magical, liberal art, Gender is a construct, tear it apart. Wearable art and terrible art, It's the motherfucking world is unbearable art. This part, this is for us, Don't need a museum, this club is enough. For a revolution with the best intentions, Beauty with a twist, just an intervention. Yes, ma'am, I'll take that dollar. Doesn't even matter, I'm a Fulbright scholar. I'd rather be modest, but I need to show it. There's a lot of pretty girls, but a queen better know shit. Femmes, rebels, meddle with gender. Realness bores me, I'm a better pretender. Brooklyn witches, revolutionary. Come up with a read that's better than hairy" - Sasha's verse in CLAT

"You now have lice."
"Michelle is so Jersey, her idea of classical music is Lisa Lisa."
"Mommy is taking you to church for the first time?"
"(Category is) Bright eyed and bushy-browed! Be the strange you wish to see in the world! Sasha Velour relies on brains, beauty be damned, let monsters reign. If you want to join the revolution: innovate, that's my solution! Wear a crown, fuck with gender, bend the rules, don't surrender. A thinking queen speaks to the heart, she's stranger than fiction, better than art! I'm- I'm more true than real, I'm a magical bitch, darling, that's how I feel! (screams)" - Sasha's verse in the Category Is remix
Trivia
Sasha, along with Aja, Alexis Michelle, and Peppermint, was interviewed for getoutmag and had to do a Broadway-themed look, her doing The Phantom Of The Opera. [1] The four New York queens also released a song on April 21, 2017, called "C.L.A.T."
Sasha is of Russian-Jewish descent and did her Fulbright scholarship in Russia. [2] She was in the airport on the way back from visiting Russia when she received her callback to the show. [1]
Sasha's favorite song to perform is "Wuthering Heights" by Kate Bush. [1]
Sasha is the director of a drag magazine entitled "Velour: The Drag Magazine".
Sasha's bald looks are done in tribute to her late mother, who lost her hair during cancer treatment.
Sasha is a pescetarian.
Both of Sasha's challenge wins were shared with Shea Coulee.

Sasha and Shea are also the first queens to win two joint challenges together.

Sasha is Jewish.
Sasha is genderqueer.
Sasha is the eighth queen to make it to the finale without ever placing in the bottom two.
Sasha is the mother of the drag family "House of Velour." Members include Sasha's boyfriend Johnny Velour, drag kings Vigor Mortis, Mr. Lee VaLone and Dandy Velour, and drag queen Olive d'Nightlife.
Sasha won Drag Queen of the Year and Best Visual Artist at the 5th Annual Brooklyn Nightlife Awards in 2017. Additionally, House of Velour won Event Producer of the Year. [3]

Sasha hosts and produces the monthly drag show "Nightgowns" in Brooklyn, NY. [4]
Sasha had previously posted on her Instagram account that she had thrown out the dress she wore on the runway for the "Draggily Ever After" challenge in episode 3, which some fans thought was basic and poorly tailored. But, in the first episode of the Logo series Out of the closet, she revealed she's kept the dress for sentimental reasons.
Sasha is the first winner not to have won the most challenges on her season.
Sasha is the fourth winner to never place in the bottom two, along with Tyra Sanchez, Bianca Del Rio, and Violet Chachki. She was followed by Aquaria.

Sasha is the second winner to not win her first main challenge within the first three weeks of the competition, winning for the first time during week 4 (ep. 4). The first was Jinkx Monsoon, who won her first main challenge on week 5 (ep. 5), and the third was Aquaria, who won her first main challenge on week 4 (ep. 4).
Sasha's favorite piece of art of all time is Keith Haring's Radiant Baby, which was represented in one of her earrings on her Hometown Look.
Sasha is allergic to cats.
Sasha is the first season winner to never win a solo challenge.
Sasha is the second winner to not have the highest score of the season on the "Dusted Or Busted" system. She is preceded by Bebe Zahara Benet and followed by Trixie Mattel.
Sasha had a crush on her fellow contestant Shea Couleé.
Videos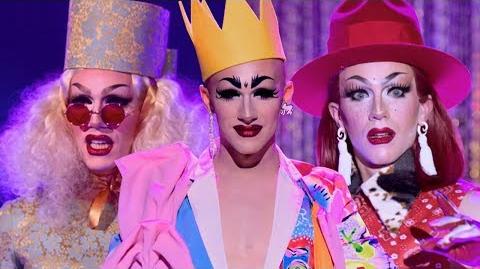 Follow Sasha
References