Shea Couleé is the stage name of Jaren Shea Merrell, a drag performer from Chicago, Illinois. She competed on the ninth season of RuPaul's Drag Race. She finished in joint 3rd/4th place alongside Trinity Taylor.
Entrance
Season 9
"My name is Shea Couleé, and I didn't come to play, I came to slay!"
Drag Name Origin
Kyei (Shea) – Swahili for "Beautiful Boy" – comes from her middle name. "Couleé" is a reference to Coulis the dessert and a mix of culo, which is "ass" in Spanish and in Italian.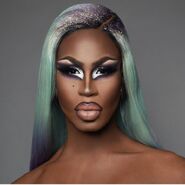 Rupaul's Drag Race
Season 9
Shea Couleé

| | |
| --- | --- |
| Season Competed: | Season 9 |
| Ranking: | 3rd/4th |
| Mini-Challenges Won: | 0 |
| Times as Team Captain: | 0 |
| Main Challenges Won: | 4 (ep. 4, 5, 9, 11) |
| Times in Bottom Two: | 1 (ep. 10) |
| Episode Eliminated: | Episode 14 |
Episode one "Oh. My. Gaga!"- The main challenge required the girls to compete in a charisma, uniqueness, nerve, and talent pageant, serving up a hometown look and a Lady Gaga look. For the hometown look, she chose a red look with a hot dog headpiece, representing Chicago.
Episode Two, "She Done Already Done Brought it On"- The queens performed a mock cheerleading battle in two teams: the RuPaul's Glamazons and the B52 Bombers (in honor of guest judges, the B52s). Shea was a part of the Rupaul's Glamazons, and her personality trait was "Flirty". Shea excelled in the cheerleading, making her one of the Top 3, but it was Valentina who won the challenge.
Episode Three, "Draggily Ever After"- Saw the queens attempt to create their own princess looks, as well as designing and voicing their own sidekick character. Shea wore a black mermaid dress with cyan decoration. Her character was called Princess Aquaria and her sidekick was named Moon Pearl. Shea was safe in this challenge, although she expressed her disappointment due to the fact that she is a costume designer by trade.
Episode Four "Good Morning Bitches!"- The girls were split into teams and had to do a morning show with Naya Rivera. Aja chose Shea to be on her team and decided to do the "cooking segment" with Sasha Velour. They made sexual jokes together, playing on the idea that they were flirting together whilst the show was live, and with their great chemistry together, were declared the winners of the week's challenge. After they won, the rest of Aja's team was safe.
Episode Five "Reality Stars: The Musical" - The girls were assigned roles on reality TV stars, particularly the Kardashians, Shea was assigned the role of Blac Chyna. Even though she had a smaller role throughout the play, she stood out with her dancing and on the runway also. During deliberation, she was complimented heavily and was then declared the winner of the challenge. She is the first person on her season to win two times in a row.
Episode Six "Snatch Game" - Shea chose to do an impersonation of Naomi Campbell for her Snatch Game performance. Shea managed to make Ru laugh, but was declared just safe for the challenge.
Episode Seven "9021-HO" - In the high-school drama acting challenge, Shea was originally assigned the role of Bethany but when Aja threw a tantrum about her role, Shea agreed to switch roles and landed the role of Grandrea Zuckerwoman. Shea landed in the top three of the challenge for her hilarious performance, but she did not win.
Episode Eight "RuPaul Roast" - The challenge was to write jokes and perform a roast of Michelle Visage. Shea was appointed to open the roast, and her funny jokes once again gave her a top three scoring.
Episode Nine "Your Pilot's on Fire" - The challenge was to work in pairs (with one team of three) and create, write, and star in your own TV pilots. Based on their previous success together, Shea paired herself with Sasha. Shea and Sasha created "Teets and Asky", a crime fighting duo that fights bad fashion. Their hilarious pilot made them both the winners of the challenge once again.
Episode Ten "Makeovers: Crew Better Work" - Shea and Sasha got to pick their crew members to makeover. Shea picked Josh to paint as he was the only black crew member and the one that looked the most like her. Shea was frustrated by her partner citing Natalie Portman as a drag influence and his inability to turn out a good runway walk. Shea named Josh as Bae Couleé. Shea's runway ended up being a disaster when Bae's wig obscured her face, and exposed her wig line. The bad runway ended Shea up in the bottom two up against Nina Bo'Nina Brown, a queen who she had supported but had tension with. Shea ended up staying and Nina was eliminated.
In Episode Eleven, called "Gayest Ball Ever", the queens were told to celebrate gay culture with looks inspired by the Rainbow Flag, Unicorns and famed music group, the Village People. Out of the five members of the group, Shea chose the Construction Worker. Shea's Rainbow look consisted of a graffiti inspired gown, which was criticized for not having enough rainbow on it, but the judges recognized that it was fashion forward. Shea's unicorn outfit was black and leather, which showed elements of fetish. For her Village People outfit, Shea made a large patchwork flannel cape to go with her look, which consisted of a turban with a hard hat, thigh high yellow boots and more deconstructed flannel. Shea received extremely positive feedback from the judges, and upon being asked who should go home, Shea named Alexis Michelle as the weakest. Shea and Sasha Velour were named the top two, but it was Shea who won the challenge.
Memorable Quotes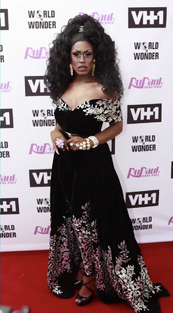 "Why y'all acting brand new? We have to get out of here. Who's after Peppermint?"
"Chicago drag is the motherfucking bomb.com... That's right, bitch, it's got it's own domain!"
"No, bitch!" - to Trinity Taylor
"Mama, you look so good it's damn near sinful."
"I would fuck the shit out of all y'all."
"I would like hate fuck the shit out of Valentina. I feel like she can... I feel like that bitch can take a dick."
"Trinity, when's your birthday? I'ma mail you some edges."
"I will subpoena Nina."
"Messica Simpson."
"(Category is) Slay Couleé, look at the edges I snatched today. I see you watching how I sashay. All them other girls best get out of my way, 'cause I want it, I get it, and came up here and I did it, and girl, I'm ready to show 'em, how these bitches, I own 'em, and got that supermodel switch. Miss Couleé, she a real, real bad bitch, uh. Let me rock this mic, leave 'em in my dust like Tina did Ike. I'm sickening, no? And real fierce, too. Chicago in the house, girl, what'cha gonna do? About to shut it down, c'mon Mama Ru, bring the queen her crown. I approve this message, and all I'm gonna say is I'm Shea Couleé, and I always (bring it to the runway)." - Shea's verse in the Category Is remix
"Do I look upset to you?" - To Valentina
"I think Peppermint is a little shaken after being in the bottom two, but that lip-sync, gurl, she did the damn thing. I think we got a real lip-sync ASSASSIN on our hands!" - Shea on Peppermint's first lip-sync.
"OH SHE DOESN'T KNOW THE WORDS." -  Shea on Valentina after she took the mask off.
"Talk shit, get hit
Trivia
Shea was the first queen to win three challenges on Season 9.
Shea was also the first queen to win two challenges consecutively on her season.
Her drag daughter is Kenzie Couleé.
Her drag sister is season 10 queen The Vixen.
Not including All Stars seasons, Shea and Sasha Velour are the first pair of queens to share two joint challenge wins.
Shea is the third queen to win four main challenges during her season, after Sharon Needles in Season 4, and Alaska in All Stars 2.

Shea is also the first queen with four or more challenge wins not to be crowned the overall winner of her season, followed by BenDeLaCreme in All Stars 3, who voluntarily eliminated herself after winning five challenges.
Shea is tied with Season 5 winner Jinkx Monsoon for the second best pre-finale track record on the show behind Bianca Del Rio, who never had a single low placement during Season 6.
Shea identifies as non-binary, and prefers to be referred to using singular they pronouns when out of drag.
Shea slipped on Sasha Velour's rose petals during their lip-sync In The finale of season 9, however this was edited out of the televised cut.
She was asked to be on All Stars 3 but declined due to her just coming off season 9.
Follow Shea