'RuPaul's Drag Race' Profile: Sonique
Kylie "Sonique" Love is a female showgirl and drag queen, now living as a transgender female.
Biography
Sonique is originally from Albany, Georgia. Now she lives in Southern California and is part of The Dreamgirls Revue, featuring Southern California's finest in female impersonation (Chad Michaels, Delta Work, Shannel, Venus D-Lite, Morgan McMichaels, Raja, and Detox).
Sonique is pursuing an acting career in Hollywood and has done quite a few appearances on other TV shows, including Jay Leno's Tonight Show, Gene Simmons Family Jewels, The Mentalist, LA Hair, Joan and Melissa, and Joan Knows Best.
Sonique was known on the show for her beauty, her southern charm, her killer body, her gymnastics, and being the first to announce that she is transgender. She has a Power Ranger obsession.
In 2015 she moved to Orlando, Florida.
Name Origin
The name comes from Sonique, a British artist. She likes the name because it sounds very powerful like sonic powers. She also wanted a one word drag name. Her drag mother is The Goddess Raven.
RuPaul's Drag Race
Sonique

| Statistics | Season 2 |
| --- | --- |
| Placement | 9th Place |
| Main Challenges Won | 0 |
| Mini Challenges Won | 0 |
| Times in Bottom | 1 (ep. 4) |
| Episode Eliminated | Episode 4 |
Elimination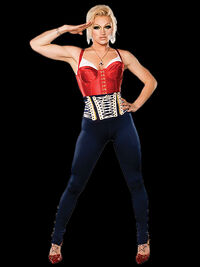 Sonique was eliminated during the 4th episode on Season 2 of Drag Race.
The main challenge was "Snatch Game" (a parody of the "Match Game") where the contestants have to impersonate a female celebrity on a game show to make RuPaul and the world laugh.
Sonique chose to do Lady Gaga, but gave a very little life to Lady Gaga which landed her in the bottom 2.
The guest star Alac Mapa said "I didn't find any characteristic, Gaga-ishness."
So Sonique ended up in the bottom two alongside Morgan McMichaels.
Although RuPaul was impressed with Sonique's performance abilities, Morgan had tighter choreography, and sent Sonique home.
Personal Life
Sonique announced she is transgender on RuPaul's Drag Race Reunited for Season 2. She actually started her transitioning prior to the show's filming and once she got her call to be on the show, she postponed transitioning further until she was eliminated.
During the Reunited special, she announced that she was taking hormones and her levels being even. She explained she wanted to transition because she always felt she was a woman born into a boy's body. She even hated taking off her makeup when she was done doing drag performances for the nights.
Now, Sonique currently lives as a pansexual female, under her new legal name, Kylie "Sonique" Love and she continues to carry on her drag legacy by performing in night clubs, though now as a hyper queen, as she is a woman.
Memorable Quotes
"Trust!"
"It looked Like Mortal Kombat"
"Five dollars, try something new"
"She showed up looking like Holiday Heart"
"My time is valuable too, so hit it!"
"Money, honey"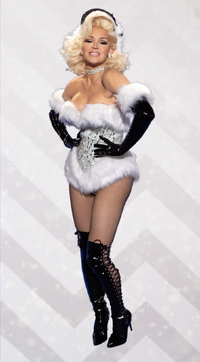 Trivia
Sonique was the first contestant to be eliminated from the Snatch Game.
Sonique was the first contestant from Drag Race who has come out as a transgender female, others being Carmen Carrera, Stacy Layne Matthews, Kenya Michaels, Jiggly Caliente, Monica Beverly Hillz, Gia Gunn and Peppermint.
She was an alternate cast member for Season 1. 
Due in part to her getting breast implants after transitioning, Sonique wears a size D cup bra.
Sonique was already transitioning prior to the show, but got off hormones for the taping of the show.
As of Holi-Slay Spectacular, Sonique is the first fully transitioned queen to compete on the show.

Due to the entire Holi-Slay cast winning, Sonique is also the first transgender winner.
Follow Sonique