Contestant Spotlight: Tatianna
Tatianna is the stage name of Joey Santolini, an American drag performer, hair stylist, make-up artist and performing artist from Falls Church, Virginia. He is best known for being a contestant on Season 2 of RuPaul's Drag Race.
Tatianna was revealed to be a contestant for the second season of RuPaul's All Stars Drag Race, where he was eliminated on episode 2. Due to a twist that occurred on episode 5, Tatianna returned to the competition alongside previously-eliminated queen; Alyssa Edwards.
She was eventually eliminated by Alaska in episode 6. Her elimination caused an uproar among fans and she is widely regarded as one of the breakout stars of All Stars 2.
About
Tatianna was known as one of the most controversial queens of Season 2 and was often complimented as the "prettiest" or "fishiest" of her season.
Tatianna was also often looked down on by her competitors in Season 2, especially Raven, for being one of the youngest queens and even the prettiest of the season.
Tatianna served glamour and fish, but was criticized for not having fashion-forward outfits and extravagant performances. However, she was highly praised and won the Snatch Game challenge for her Britney Spears performance. Other queens don't think she deserved the win.
Elimination
Tatianna was eliminated on the ninth episode on Drag Race, "The Diva Awards".
The challenge was to come up with a lip-sync number to kick off the Diva Awards and create three distinct looks for the runway that represent the Diva Awards...
Look 1 - "Teen Diva Awards" – where the queens had to create a fashion-foward outfit that represents a teenager superstar. - This was Tatianna's best look according to the judges.
Look 2 - "Diva DC Press Awards" – where the queens had to serve some "executive realness" looks – Tatianna chose a Sarah Palin-type look.
Look 3 - "Diva Hollywood Extravaganza Awards" – Where the queens had to create a fashion-foward outfit to wear on the Red Carpet in Hollywood. A part of the challenge was to be interviewed by "The Freak Show's" James st. James in their hollywood outfits and how they feel to be in Hollywood.
According to the judges, most of Tatianna's looks were half-baked and did not stand out from her competitors, especially from Raven and Tyra Sanchez.
So Jujubee and Tatianna both fell into the bottom two and had to lip-sync for their lives to "Something He Can Feel" by Aretha Franklin. Tatianna unfortunately did not give the right feel to the song in the lip-sync and was outshined by Jujubee's energy during the performance, so Tatianna was sent home.
Drag Name Origin
Joey was one day browsing through his CD collections and found the artist "Tatyana Ali". Joey thought it was cute and stuck with "Tatianna" ever since.
Entrance
All Stars 2
"Thank you."
Season 2
"*waves and smiles*"
Memorable Quotes
Season 2
"Thank you!"
"...Choices."
"Hey!"
"I'm sweet in the streets and you know, a freak in the sheets."
"I'll forgive but I won't forget the comments Sonique said, especially where she said "I'm not a threat". Well I am a threat now, because, I won, and you got sent home."
"Um, I don't think you're seeing that Tyra is a complete bitch." -Then fixes the bangs of her wig
"She has this Diva Attitude, like she's America's Sweetheart, but she's not." - In reference to Tyra
"You know you really shouldn't play the victim. It doesn't suit you, you don't do it well." To Tyra on the main stage.
"And I don't like you. Are you happy? I don't like you." - To Tyra
"Shut the **** up!" - To Tyra for obnoxiously singing while the girls were working on their wedding gowns
"Your outside is gorgeous Raven, but your insides are dark and nasty. And I don't like you."
"NO, I am not the Rebecca Glasscock of the second season."
"Think that I'm a door mat, think it, and when you find out a little bit more down the road, THINK WHAT YOU WANT!" - To Morgan McMichaels and Sonique
"Why are you talking?!"
All-Stars 2
"Stupid bitch" - On her ad for her Tatianna's Tea Set
"Choices" - Reading her competitors
"People at the party and I'm wanting to dance. Other ugly ass bitches ain't standing no chance. Dudes looking at me like they wanna get in my pants. Come on, bitch, see me with them hands. See me with them hands. His back on the wall, my hands on his HUH. Grinding for a second...his stuff's getting thick. He doesn't know it, but I'm getting firm too. Cuz boys really need to know before calling me boo. Because what you see, isn't always the truth. Say it with me, what you see, isn't always the truth. Thank you. Because baby boy, I got all the same parts that you do. The same parts. The same parts. The same parts...- Tatianna's Spoken Word on the All Stars Talent Show
"What's up, Hookers" - "Season 2 All Stars 2nd entrance"
"We all make choices, but that was a choice....." - Tatianna on Coco Montrese's dancing Performance on the All Stars Talent Show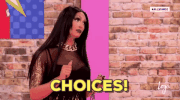 Trivia
Before gaining a full career in drag, Joey worked as a hair stylist.
She started dressing in drag at the age of 14, and would go to school in drag on big occasions, such as Halloween and Homecoming.
She was suspended multiple times throughout school for beating up her bullies.
Tatianna is 6'5" in heels.
She is often assumed to be Latino, despite being of mixed Black and Italian descent.
She lives and performs in the Washington D.C. area, and is a castmember at Town Dance Boutique along with drag queens Ba'Naka and Shi Queeta Lee.
Her favorite diva is Britney Spears.
Her favorite type of men are Latino men.
She has thought about transitioning in the past, but decided against it.
Her favorite colors are purple, black, and blue.
She is the first queen to be eliminated a total of 3 times within both the regular series and All Stars series. The second queen to accomplish this was Alyssa Edwards. Morgan McMichaels became the third queen to accomplish this in All Stars 3.
She is the first queen to win the Snatch Game and later be eliminated from it.
On All Stars 2, she was either winning a challenge or being eliminated. (Wins: Ep 1 and Ep 5) (Elim: Ep 2 and Ep 6)
In late May, 2017, Tatianna's phone number was leaked by Tyra Sanchez on her Instagram. As a result, Tatianna posted Tyra's number on her Instagram account as revenge for leaking her number.
In the After Elimination video on LogoTV's Youtube, Tatianna's outfit is shown for the 'Baddest Bitches of Herstory' challenge on All Stars 2.
Tatianna lied about her age in order to compete on Season 2, and at 20 years old during filming is the youngest contestant to appear on the show.
Social Media
Tatianna's Facebook
Tatianna's Twitter
Tatianna's Instagram