Trinity Taylor
is the stage name of
Ryan Taylor
, a drag performer from Birmingham, Alabama. She was one of the 14 queens who competed on the
ninth season
of
RuPaul's Drag Race
. She placed 3rd/4th being the 2nd/3rd runner-up.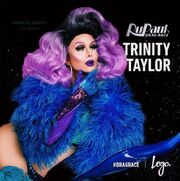 Rupaul's Drag Race
 

| | |
| --- | --- |
| Season Competed: | Season 9 |
| Ranking: | 3rd/4th |
| Mini-Challenges Won: | 0 |
| Times as Team Captain: | 1 (ep. 4) |
| Main Challenges Won: | 3 (ep. 3, 7, 10) |
| Times in Bottom Two: | 1 (ep. 4) |
| Episode Eliminated: | Episode 14 |
Season 9
Episode One: Oh. My. Gaga! - For the main challenge, the girls had to compete in a charisma, uniqueness, nerve, and talent pageant, serving up a hometown look and a Lady Gaga look. For the hometown look, she chose a huge circular pop up with a theme park on it, representing Orlando, Florida. Her jumpsuit was designed to blend in with the pop up. Michelle Visage noted that this look didn't scream "Orlando" enough, and that the back of the look resembled an anus. For the Gaga look, she chose Gaga's American Horror Story: Hotel Countess Elizabeth look. She received praise from all judges for her look.
Episode Two: She Done Already Done Brought It On - The girls were asked to split into teams and perform a Bring It On inspired cheer battle. Trinity performed well, and received positive feedback for both her performance and her runway look. She was in the top 3, but did not win.
Episode Three: Draggily Ever After - The queens had to create a fairytale princess and a sassy sidekick. Trinity expressed annoyance at Valentina's win and became more determined to win the challenge. Trinity also opened up about the Pulse nightclub attack with the fellow queens. At the runway, Trinity's aquatic princess and comedic starfish sidekick received praise from the judges, leading to her winning the challenge.
Episode Four: Morning Bitches! - Trinity was chosen for team captain as she had won the last challenge. However, as her team was disorganized, she was put into the bottom two and had to lipsync for her life against Charlie Hides. She was told to shantay after a high-energy performance against Charlie's lack of movement.
Episode Five: Kardashian: The Musical - Trinity was given the role of Paris Hilton by Alexis Michelle. For this reason, she would be working with Peppermint (as Britney Spears) and Sasha Velour (as Lindsay Lohan) in their 'scene'. Trinity did well in the challenge, landing her a safe position.
Episode Six: Snatch Game - This week, Trinity decided to play superstar Amanda Lepore. According to many fans, she had a very accurate look. On the runway, Trinity and competitor Nina had the same runway look. The judges had decided that Trinity's look was much better than that of Nina's. In addition, Trinity made her Madonna runway outfit from scratch. In the end, Trinity was safe.
Episode Seven: 9021-HO - Trinity was given the role of the mom of Nelly played by Farrah,given by Peppermint. During filming, Trinity did a very good job, and it showed in the final production. In combination with her big hair runway look, RuPaul named Trinity the winner of the challenge and $2000 to Fabric Planet.
Episode Ten: Makeovers: Crew Better Work - Trinity was given crew member Rizzo to work with and make over. Trinity gave Rizzo the name Glittafa Dayz. They were praised for their tuck (which Trinity is well known for) and their choreography during the Click Clack lip-sync. Trinity was named the winner of the challenge and won two David Meister custom gowns, while Rizzo won a $2,000 dollar gift card for Klein Epstein & Parker suits.
Trivia
Trinity has had plastic surgery and doesn't feel the need to pad.
has the same first drag name of Trinity K. Bonet of Season 6 and same first real name as Ongina of Season 1.

Both Trinities had their name inspired by The Matrix's character "Trinity"

Trinity won the National Entertainer of the Year pageant in 2014, with Alyssa Edwards as first alternate and Eureka O'Hara as second alternate.
Trinity's drag mother is Jordan Kennedy, a retired pageant queen. Her drag father is Bob Taylor, the father of the Haus of Taylor.
In the past, Trinity had considered transitioning in order to further her career.
Trinity was mentioned in a RuPaul's Drag Race skit on Saturday Night Live.
Trinity dropped out of high school in order to care for her dying grandmother, who had raised her after her mother passed away when she was a child.
Trinity was the first challenge winner of her season to have to lipsync.
Trinity is the second queen of her season to win three challenges.
Due to her promo shot not doing her justice, there have been several edits.
Her nickname "the tuck" came from Genesis, a drag queen from Alabama and one of Trinity's friends, since she introduced Ryan as Trinity The Tuck to multiple gigs.
Quotes
"The body is here, bitches!" (Entrance quote)
"I call shade!"
"No, you're done, because I'm gonna tell you why you're done."
"I have 50 units of botox in my face, I don't know what y'all want from me."
"I went from a pancake to a Kardashian."
"Aja's makeup is just really rough around the edges, but she comes off as confident. Does she know what she looks like? 'Cause if not, I need to tell her."
"You crazy, bitch. Thats some crazy shit." - Trinity on Valentina's La Virgen De Guadalupe candle
"I can't wait to knock you out of your winner place." - Trinity to Valentina
"Nobody wants to be the bridesmaids, everyone wants to be the bride." - Trinity on losing the challenge in Episode 2 to Valentina
"Girl, where are the jokes? Where are the jokes!?" - Trinity on Cynthia's Sofia Vergara impersonation in the Snatch Game
I love her, but bye bitch! - Trinity after Cynthia's elimination.
"(Category is) Trin-tastic-plastic injectable realness! The body is here! I'm the mother-tucker, what can I say? There can only be one, and I'm feeling the fantasy! My name is Trinity and can't you see? I've got a lot of plastic parts up in me. Crowns and gowns and tiny thongs, too. Other bitches wishin', but you ain't me, boo! The talent I've got, you just can't replace, even with injectables in your face! The time has come to win 100g's, you think you're gonna beat me? Girl, please." - Trinity's verse in the Category Is remix
"YES!! Get her Jade!!!" (Talking about Aja's Linda Evangalista to Valentina)
Ad blocker interference detected!
Wikia is a free-to-use site that makes money from advertising. We have a modified experience for viewers using ad blockers

Wikia is not accessible if you've made further modifications. Remove the custom ad blocker rule(s) and the page will load as expected.