Trixie Mattel is the stage name of drag performer Brian Firkus. Trixie is best known as a contestant on Season 7 of RuPaul's Drag Race.
She was a contestant touted by many as an early front-runner. A seemingly premature elimination in episode 4 caused outrage among fans, however, she was brought back in episode 8, only to be eliminated again in episode 10. Her elimination is still considered one of the most controversial decisions in Drag Race herstory. A 2017 Buzzfeed poll saw Trixie receiving over 19,300 votes to top the "queen who left too early" category, showing that years after the incident, fan feelings are still strong. [1]
Nonetheless, she is widely considered one of the show's major breakout stars, along with friend and fellow Season 7 contestant Katya. Many fans note that Trixie's ad-hoc wit is better suited to unscripted environments. She used to star on a webshow with Katya, entitled UNHhhh. It can be viewed on the WOWPresents YouTube channel. Now she stars with Katya on their new show entitled The Trixie & Katya Show on Viceland
Entrance
"This isn't Maury Povich?!" (Season 7)
"Oh honey... That's how I roll!" (All Stars 3)
Season 7
Episode One: Born Naked
Trixie arrived in the work-room and met the other fourteen queens of season seven. There was no mini-challenge winner during this week, as the looks would be taken into consideration on the main stage for the weeks main judging. The main challenge was to create a resort-wear look that tears away to reveal a nude illusion.
During the nude illusion runway critique, Trixie along with Ginger Minj, Jaidynn Diore Fierce, Katya, Max, Mrs. Kasha Davis, Pearl were all declared safe.
Episode Two: Glamazonian Airways
This week's mini-challenge saw the queens being photographed while being blown in the face by a leaf blowers. Ginger Minj and Trixie delivered the best shots, and were made team leaders for this week's maxi-challenge: a lip-synch performance to a pre-flight safety video for "Glamazonian Airways".
Trixie selected Pearl, Miss Fame, Katya, Max and Violet to join her team (this group of girls is now commonly called the Aryan Airlines Girls or AAG). During their preparation for the challenge, Trixie began to reconsider her team selection due to her groups collective lack of acting experience. The queens perform their routines on the main stage and then walk the runway dressed in their best jet-set glamor looks. Trixie along with Jaidynn Diore Fierce, Jasmine Masters, Kandy Ho, Kennedy Davenport, Max and Pearl are all declared safe.
Episode Three: ShakesQueer
For this week's mini challenge, the queens dress up in their best granny drag, and have a dance-off to RuPaul and La Toya Jackson's song "Feel Like Dancin'". Kennedy Davenport and Max are declared the winners, and become team captains for the main challenge. Max is assigned "Romy and Juliet" (Romeo and Juliet) and chooses Trixie, Ginger, Jaidynn, Kasha and Miss Fame. The queens were invited to rehearse their plays, watched by RuPaul and Michelle. Trixie was chosen to be the Narrator of the play.
On the Main Stage, the queens were asked to be "Bearded and Beautiful", walking the runway with beards. After the performances of their Shakespeare plays, Max's team was deemed better, with the team all being declared safe from elimination, including Trixie.
Episode Four: Spoof! (There It Is)
For the main challenge, the queens were tasked with creating parody music videos for a song in RuPaul's discography. Despite being eager to work together, Team Katya, which consisted of Miss Fame, Pearl and Trixie struggled to come up with a concept for their spoof of "Dance With U". After bickering amongst each other, decided to go with Trixie's idea of "Tan With U".
The queens met with Lucian Piane to record the vocals for their videos. Team "Tan With U" was first, with all four of the queens experiencing difficulty. The queens next shot their videos, with team "Tan With U" being criticized for being disorganized.
During the critiques on the Main Stage, Trixie was accused of not standing out in her group, with the judges feeling that she could have gone further with her comedy. After deliberation, Pearl and were asked to lip sync for their lives. Pearl won the battle and remained in the competition, while Trixie became the fourth queen to sashay away. Trixie came in 11th place until she returned to Drag Race on Episode 8.
Episode Eight: Conjoined Queens
RuPaul gathers the queens to address his previous announcement of intending to bring one of the eliminated queens back into the competition. The entrance doors to the workroom open, and fan-favorite Trixie walks in, seemingly returning to the competition. The doors suddenly swing open again, and the first queen of the season to be eliminated, Tempest DuJour, enters the workroom. She is followed by Kandy Ho, Sasha Belle, Jasmine Masters, Mrs. Kasha Davis and Max.
Once all fourteen queens have been assembled in the workroom, it is announced that each queen still in the competition will be paired up with an eliminated queen, and create a conjoined twins-inspired drag look. The eliminated queen from the winning pair will then return to the competition, and once again be in the running for the title of America's next drag superstar. Ironically, Trixie was paired with Pearl again after Pearl sent her home during a lip sync in Episode 4. Pearl and Trixie decide to go with a beautiful twin / ugly twin combination.
The queens then present their looks on the main stage. During the judges critiques, Pearl and Trixie's look is praised by all of the judges, and complimented for being diverse and funny, while still sticking to a twin theme. After the critiques, Pearl and Trixie are declared winners of the challenge, meaning Trixie officially rejoins the competition.
Controversy
Trixie's elimination in Episode 4 sparked outrage amongst fans and has gone down in Drag Race herstory as one of the most shocking eliminations, along with BenDeLaCreme on Season 6 and Katya on the same season as Trixie, as well as Valentina on Season 9. She was considered a strong competitor and a fan favorite, and many viewers argued that RuPaul's decision seemed to be purposefully controversial. Fans started a #justicefortrixie campaign to get her reinstated.
In Episode 8, when all the eliminated queens returned to the competition, hoping for a spot to stay, Trixie was introduced first. This was a move some fans see as an acknowledgment that her elimination was unjustified. She was paired with Pearl for the Conjoined Queens challenge. Being 'the pretty sister' Pearl pushed along an awkwardly headgeared Trixie, and the laughs assured she'd earned her spot back in the competition.
Drag Name Origin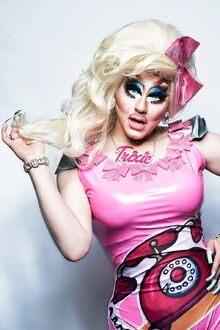 When she was younger she had a rough relationship with her step dad, and whenever she was acting too feminine he would call her a Trixie like it was a slur. When she was 18 she had to step in for a person who played "Dr. Frank-N-Furter" in The Rocky Horror Picture Show. It just so happened that the character's name was also Trixie which felt like fate.
She started as only Trixie, but nobody really knew her name so they call her as the new girl who looks like a Barbie doll. So later Mattel is an homage to Barbie, her number one visual inspiration. As a child, she wasn't allowed to have a Barbie, so she became one.
Lip Sync Battles
Trivia
She attended University of Wisconsin-Milwaukee for musical theatre with Max.

Trixie is the first eliminated queen to return in her own season and stay past the episode in which she returned, breaking the so-called "Returning Queen Curse."
She grew up in a poor family.
She is half Ojibwe.
She is 5'11.
Has been a Vegetarian since the age of 9.
She is often nicknamed Tracy Martel by her fans, which originated from a pageant in which a drunk announcer forgot her actual drag name.
After the photo challenge when all the queens were de-dragging, some of the other girls thought she was a crew member as she looked so different out of drag.
Trixie has her own web show called UNHhhh, alongside fellow Season 7 contestant Katya. They have also appeared on Besties for Cash, and Trixie has also been a guest judge on Gay for Play.

On Untucked Season 8 Episode 3, it was revealed that Kim Chi was the one who called Trixie to go to Chicago and helped her get her first job, as according to Trixie, it was difficult for her to find one in Milwaukee. Before they went to Greyhounds, they listened to K-Pop music while on their way there.
Trixie does not have a drag mother, originally honing her drag style performing in The Rocky Horror Picture show, but credits a comment from Bebe Zahara Benet for inspiring her to stick with it.
In episode 22 of "UNHhhh" her myspace page was revealed.
Contrary to popular belief, Trixie and Katya are not in a romantic relationship and are just close friends.
Season 9 queen Jaymes Mansfield made Trixie a Michelle Visage puppet.
Trixie also appeared on American Horror Story: Roanoke, on its final episode which aired November 16th 2016, in which she portrayed herself. 
Quotes
"Ginger, does someone of your body type prefer to be called a short person or a bean bag chair?"
"When we're talking, we're not what?" (to Violet)
"C'mon chin strap!" (to Pearl Liaison when she saw her entrance outfit)
"Alright, public school, calm down."
"I paint for the check cashing place down the street."
"Violet, I don't believe the rumours. I don't believe you took Sharon Needles' crown. I don't believe you taking this one either."
"Ginger Minj, did you really save Carol Ann from the Poltergeist in the T.V?'
"Katya, Where'd you get your outfits, girl, American Apparently Not?"
"I don't know what the worst thing is about kissing you: tongue, dry mouth, your beard, your red lipstick, your smoker breath or your attitude" (To Katya)
"It's okay. It's not, It's not in a good place right now. It's shriveled up right now. Can I like fluff for a second? Hold on! I need to think good thoughts..." (talking about her uncircumcised dick)

She later confirmed in a Feast of Fun podcast that her dick is actually circumcised, despite what Pearl had said in the workroom.

"Acid Betty in Untucked did you or did you not come for me?"
"I mean if I had to pick someone, I'm very sexual with my heart and so I wouldn't have sex with someone I didn't care about, so I care about (Katya) the most."
"Complex notes of fruit, floral, and nut in my but, What?"
"Oh, honey!"
"HONEY!"
"Do you guys have any friends that are liars"--referring to Katya
"Hi, I'm the chemical burn from the spiral perm, Trixie Mattel"--UNHhh episode 34
"Hi, I'm the star of a soft-core Iraqi porn, stuck between Iraq and a hard place" --UNHhh episode 45
"If your going to come to the playground, bring some FUCKING toys!!!"--referring to Acid Betty and her interaction at the Season 8 finale on HEY QWEEN
"I belong in the Drag Race Hall Of Fame because I'm Roxxxy Andrews and I'm here to make it clear, I know you love me baby so that's why you brought me here." (All Stars 3 Meet The Queens)
References
Ad blocker interference detected!
Wikia is a free-to-use site that makes money from advertising. We have a modified experience for viewers using ad blockers

Wikia is not accessible if you've made further modifications. Remove the custom ad blocker rule(s) and the page will load as expected.