Valentina is the stage name of James Leyva, a drag performer from Los Angeles, California. She competed on the ninth season of RuPaul's Drag Race. She finished in seventh place and won the title of Miss Congeniality.
Entrance Quotes
Season 9
"Hello, it's me, Valentina!" *winks*
All Stars 4
"Fan favorite is here!"
RuPaul's Drag Race
Valentina

| | | |
| --- | --- | --- |
| Season Competed: | Season 9 | All Stars 4 |
| Ranking: | 7th (Miss Congeniality) | TBA |
| Mini-Challenges Won: | 1 (Ep. 8) | TBA |
| Times as Team Captain: | 0 | TBA |
| Main Challenges Won: | 1 (Ep. 2) | 2 (Ep. 2, 6) |
| Times in Bottom Two: | 1 (Ep. 9) | 2 (Ep. 3,5) |
| Episode Eliminated: | Episode 9 | TBA |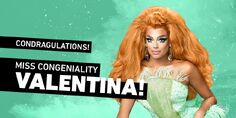 Season 9
Episode One, "Oh. My. Gaga!" In this episode, the queens were challenged to make a look inspired by their hometown and remake their favorite Lady Gaga look. Valentina received positive critiques from the judges for her runway outfits. For the hometown look, she did a mariachi-themed outfit, representing Los Angeles. For the Gaga outfit, she chose Gaga's CFDA Awards 2011 dress and was praised for her runway walk, which Gaga herself said brought a tear to her eye. Ross Matthews said her hometown look was his favorite look. Valentina did not win, but was deemed safe by the judges.
Episode Two, "She Done Already Done Brought it On"
In this episode, the queens had to learn choreography for a cheer routine. Valentina was picked last for the cheer-leading teams due to her being relatively new to drag and ended up on
Cynthia Lee Fontaine's
team. She was praised both for her performance in the challenge and for her bridal-inspired runway look, and was declared the winner of the challenge.
Episode Three, "Draggily Ever After" In this episode, the queens had to create their own fairy-tale princess and sidekick. Valentina chose to do an ice/winter theme for her Princess look, with a fairy as her sidekick. The judges praised her look and were surprised by her comedy. Valentina placed high in this challenge, but did not win
Episode Four, "Good Morning Bitches" In this episode, the queens were challenged to create their own morning show. Valentina was on Aja's team and was also paired with Aja during the enter"taint"ment skit. She was on the winning team for this challenge, and was therefore declared safe.
Episode Five, "Reality Stars: The Musical" In this episode, the queens had to perform a musical called "Kardashian: The Musical" Valentina was Kendall Jenner and was declared safe.
Episode Six: "Snatch Game" In this episode, the queens had to act as a performer in a match game style setting Valentina performed as Miss Colombia and ended up being safe.
Episode Seven: "9021-HO" In this episode, the queens had to make a parody of hit show "90210" Valentina was Donna Martin and received positive reviews for her runway look and performance but was ultimately declared safe.
Episode Eight: "Rupaul Roast" In this episode, the queens had to roast Michelle Visage, Valentina was safe in this challenge.
Episode Nine, "Your Pilot's On Fire" In this episode, the main challenge was to create their own TV show pilot. Valentina and Nina Bo'nina Brown were paired together, and struggled with filming their TV pilot as they had not prepared a script and had to improvise. Although Valentina received some positive comments on her runway outfit, she and Nina were criticized for their lack of planning and organization, which ultimately landed them both in the bottom two. Valentina initially attempted to 'lip-sync' with her runway mask covering her mouth, but RuPaul made her remove it, and it was revealed she could not remember the lyrics to the song, and she was eliminated.
All Stars 4
Valentina was confirmed to be on the season by a reporter for the upcoming live musical Rent in which she stars. The reporter stated that "Valentina is returning to the Drag Race franchise and will compete in the All Stars season".
Controversy
Shocking Elimination
Much like Trixie Mattel and BenDeLaCreme, Valentina's elimination was a shock to most viewers, as she was considered to be one of the stronger contestants of Season 9. Many of her fans sent hate and death threats to Nina Bo'nina Brown and Alexis Michelle, the other two low-placing contestants in that episode, and both of them had to temporarily disable their comment sections on social media as a result.
Miss Congeniality or Fan Favorite?
During the reunion, several of the other queens (most notably Aja and Farrah Moan) objected to Valentina winning the Miss Congeniality vote. They argued that the Miss Congeniality prize is more of a popularity contest, and that Valentina should be crowned fan favorite instead as she was not seen to be the most congenial queen by her peers, largely because she did not speak out about the hate her fans sent to other queens following her elimination.
Following the controversy at the reunion, Valentina posted a video on her Instagram page suggesting her fans leave rose emojis in her fellow Season 9 queens' comment sections "to show them that we're not all hateful." This led to many of her followers flooding many queens' social media with red rose emojis. While some queens responded positively to this as a nice gesture, many others saw it as an annoyance and spam, with some asking fans to stop.
Memorable Quotes
"I'm glad these girls see me as a threat."
"I was literally shaking, but I said to myself: Valentina, when in doubt, smile!"
"I'm Valentina, I'm also Corny!"
"I lied you ugly stripper!"
"Hey!"
"I'd like to keep it on, please." - When asked by RuPaul to remove her mask for her lip-sync
"Farrah Moan, just shut up already."
"Deodorant, Bitch!"
"In my country, we're known for beautiful women, and I think, also... COCAÍNA." -As Ariadna Gutierrez in the Snatch Game.
"E scandalo..." -To Farrah after explaining Tyga's relationship to the Kardashian family
"Am I the villain? Villaintina? Me?"
"Valentina is the diva of the season. The rumors are true; I take a long time to get ready. The rumors are true; I have high expectations, like my heels."
"Look good, smell good, feel good. Be sweet; be kind, be diva, be everything you want to be; it's all about the fantasy, okay?"
"Ru, Mystique was a mistake." -To Latrice Royale during the All Stars 4 reading challenge.
"I'm sending your ass home, bitch, because sending Latrice? That's too much." -To Trinity The Tuck on All Stars 4
"Can't you see her now, with a juicy red apple in her mouth and satan's finger up her ass?"
Trivia
Valentina was the first queen revealed for Season 9, being interviewed by Michelle Visage during a Facebook live-stream.
The name 'Valentina' comes from the Mexican hot sauce brand of the same name.
She claimed to have only been performing professionally in clubs for 10 months at the time of filming for Season 9 and was accepted on her first time auditioning for the show.
She revealed she was struggling with an eating disorder on the fifth episode of Season 9.
Valentina won the 2015 club version of the Boulet Brothers' DRAGULA.

Valentina considers the Virgin of Guadalupe, an apparition of the Virgin Mary that occurred in Mexico during colonial times, her drag mother. 
Valentina and Nina Bo'Nina Brown are the only queens so far to be stopped by RuPaul during a lip-sync.
Valentina is the first queen to participate in a lip-sync with her mouth covered.
Like Farrah Moan and Nina Bo'nina Brown, Valentina's elimination was leaked online prior to the episode airing.
Valentina and Season 5 contestant Ivy Winters are tied for the second-lowest Miss Congeniality placement, as both came 7th on their respective seasons. Cynthia Lee Fontaine is the lowest-placing Miss Congeniality, coming in 10th on Season 8.
Valentina's lip sync against Nina Bo'Nina Brown was ranked number 1 in MsMojo's "Top 10 Moments From RuPaul's Drag Race Season 9".
RuPaul has said that Valentina's lip-sync is one of his top 3 shocking moments on Drag Race. The other 2 being Roxxxy Andrews' abandonment story and Ongina's announcement of her HIV status.
Valentina was invited to return for All Stars 3 along with Aja after Trinity Taylor and Shea Couleé declined, but reportedly turned it down.
Valentina is the youngest queen to win Miss Congeniality.
Valentina voices a character named 'Arugula' in the WOWPresents+ Exclusive show 'Drag Tots'. The show also features Detox, Bianca Del Rio, Latrice Royale, and others. RuPaul herself also voices a character.
She is the only queen on All Stars 4 to go by a single name.
Videos
Follow Valentina