Contestant Spotlight: Violet Chachki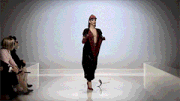 Violet Chachki is the drag name of Jason Dardo, a drag performer from Atlanta, Georgia. She is one of 14 contestants to compete on the seventh season of RuPaul's Drag Race. Violet Chachki went on to win the title of "America's Next Drag Superstar" at the season's Reunited! episode.
She was the winner of the first challenge in Episode 1 "Born Naked", winner of the team challenge in Episode 10 "Prancing Queens" (teamed with Katya) and winner of the challenge in Episode 11 "Hey, Kitty Girls!" leaving her being one of the only queens to win three main challenges this season, alongside Ginger Minj.
She is also the only queen this season who did not compete in any lip-syncs; she therefore joins Season 1 runner-Up Nina Flowers, Tyra Sanchez, the winner of Season 2, top 3 finalist Alaska Thunderfuck from Season 5, Bianca Del Rio, winner of Season 6, Bianca's fellow contestant and Top 3 finalist, Courtney Act, runner-Up Kim Chi of Season 8, and Season 9 winner Sasha Velour (other than the finale twist) as the only queens in the show's history to never have lip-synced for their life.
Violet Chachki

| Statistics | Season 7 |
| --- | --- |
| Placement | Winner |
| Main Challenges Won | 3 (ep. 1, 10, 11) |
| Mini Challenges Won | 1 (ep. 10) |
| Times in Bottom | 0 |
| Episode Eliminated | N/A |
Entrance
"Ooh, la la la la la la..."
Drag Name Origin
Her original drag name was Blair. She then changed to Violet after watching Jennifer Tilly in the movie Bound playing a sexy money hungry lesbian rocking Christian Louboutins and Chanel. She loved how devious and mysterious her character was. She wanted her drag character to have a nod to mid-century women, dark and mysterious, and beautiful to look at. That's where Chachki came from which is the slang spelling of tchotchke, a Yiddish word for a strictly decorative object with no function.
Drag Mother
Violet's drag mother is Season 8 contestant, Dax ExclamationPoint. Violet talked about Dax being her drag mother in an interview:
"Yes, I love Dax, I love her so much. It's so funny - you know you're not supposed to tell anybody when you go away? She didn't tell me! And I'm like "Why are you playing by the rules, Dax? What the hell?" And I'm on episode one, she walks in and I'm like "What the fck?" I was like talking with her, I knew she was auditioning and I didn't hear anything about. I was like "What the fck? Why didn't you tell me?" She played by the rules, didn't tell me, and I totally help people. When you're preparing it's like "I've got two weeks to pack and get these looks and everything together," and you have to have help. It was like "F*ck I so would have helped you so hard!" She played the rules. It's funny because her style and my style are not very similar at all. But the reason Dax is my mom is because she was doing drag before Drag Race in Atlanta. She was doing drag before it was a trend, before it was popular. And she was always doing really weird drag - in Atlanta there was a pageant girl/showgirl scene and then there was Dax. And that was it for the longest time: club kid Dax and Atlanta showgirls and it was like this huge divide. And so when I started doing drag, I was like "this is the person who will show me the way. I don't wanna be with these showgirls, I want to be in the alternative scene." And Dax was the only person around who was doing anything alternative, as far as gender expression is concerned. She was basically doing what RuPaul was doing: go-going with like androgynous football shoulder pads. Just weird, weird shit for like the longest time. So that's kind of why Dax adopted me, and then she moved to Savannah and does lots of cosplay and does this whole nerd thing. It's very much her own and we have very different styles. We're related on the fact we were two oddballs in a city full of fishy, showgirls."
On the show
Violet Chachki

| | |
| --- | --- |
| Season Competed: | Season 7 |
| Ranking: | 1st (Winner) |
| Mini-Challenges Won: | 1 (ep. 10) |
| Times as Team Captain: | 0 |
| Main Challenges Won: | 3 (ep. 1, 10, 11) |
| Times in Bottom Two: | 0 |
| Episode Eliminated: | N/A |
Violet was initially unpopular amongst the other queens on her season due to her snobbish attitude, and she was frequently picked last for team challenges.
Violet won the first main challenge of the season due to her bold and high-fashion runway looks, including a reverse tartan jumpsuit and walking the runway fully naked in a "nude-illusion" challenge.
Chachki further impressed the following week, in the "Glamazonian Airways" challenge, though she clashed with fellow contestants Pearl and team captain Trixie Mattel due to her forthright attitude. However, she was still named as one of the Top 3 of the challenge. Though she lost the challenge to Ginger Minj, Minj later remarked on the third episode of Untucked that Violet was essentially the first runner-up of the challenge.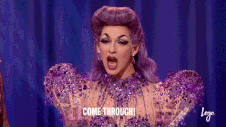 Trivia
The preview trailer featured many of Violet's runway looks, including the legendary "Death Becomes Her" outfit.
She cinched her waist to 18 inches.
Violet performs drag with aerial silks, which is a form of acrobatics in the air hanging from sheets of silk.
Her last name 'Tchotchke', a Yiddish word meaning a decorative but otherwise useless object, is misspelled on purpose.
Violet has stated that due to her gender-fluidity, she is comfortable with both male and female pronouns, and many of her friends call her Violet out of drag. She also doesn't mind being known as "androgynous".
Violet has a short past in pornography under the name "Frankie Malone", much like Jade Jolie and Detox
Her drag mother is Dax ExclamationPoint, who later competed in Season 8.
Violet is the second youngest winner in history after Tyra Sanchez who won at the age of 21 in Season 2.
Violet's snapchat is @VioletChachki
Violet is the first queen to have released her own paper doll book.
Violet was put in her first corset by Dax ExclamationPoint.
Her drag sister is Brigitte Bidet.
Violet is tied with Roxxxy Andrews for the longest gap between challenge wins, both taking nine episodes to win their second challenge.
Discography
EPs
Gagged
Bettie
Harlequin
La Petite Mort
Vanguard
Show Off
Other Appearances
2015
"Beauty Marked" - Miss Fame feat. Violet Chachki
"Drop That Pimp" - RuPaul feat. Violet Chachki & Miles Davis Moody
Quotes
"I hate Michelle Visage..."
"I've seen Miss Fame's work. I'm pretty impressed but... not that impressed..."
"She probably has a bigger man body than me without her implants!"
"No one says that but yes."
"I'm jealous! I don't have any fat to push together!"
"Do you want to go to Red Lobster?"
"I'm not not a dancer, but I'm not a dancer."
"I get it, I'm a bitch."
"I don't want to do anything raunchy or dirty..." (imitating Max)
"She looks like Tony the Tiger on crack." (about Kennedy Davenport).
"Stir the pot, RuPaul. Want a spoon?"
"You almost got me there, bitch!"
"Pain is beauty and I'm the prettiest."
"Ooh, la la la la..."
"YAAASSSSS! YAAASSSS! COME THROUGH!"
"Always bitchy, never butchy."
"I really could die bitch, I'm giving you realness."
"Collect them stones gurlll!" (about Kennedy Davenport)
"Serving two looks in one is a talent."
"I am a one-of-a-kind collectible."
"Eww, Michelle!"
"Boner killer." (about Naomi Smalls)
Gallery
Follow Violet